In a hurry? My pick for best hamburger press is the Bellemain Burger Press Non-Stick Hamburger Patty Maker
Who doesn't love a good burger? 
A trip to buy a burger isn't always on the menu (pun intended), so it's nice to have the means at home to make something delectable. Using a hamburger press, you can make perfectly shaped and compressed burgers any time you want to fire up the grill (or the stovetop, for that patter).
In this post, I'll discuss what to watch for when buying a hamburger press and review 6 of the best hamburger presses to help you find the right press for your needs.
Let's press on!
Six Top Hamburger Presses Reviewed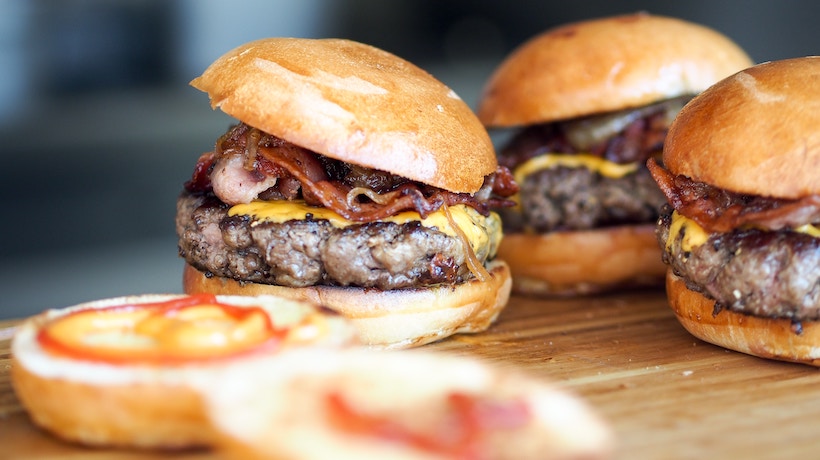 Hamburger Presses – Everything You Need to Know
Before you take a look at our reviews and recommended top choice, take some time to learn more about hamburger presses and the type of features that high-quality presses have.
This section will cover everything from materials to types and ease of use – let's bite in.
Benefits of Using a Hamburger Press
There are a handful of different reasons you may want to invest in a hamburger press.
You might want to...
Produce the perfectly shaped patty
More easily construct patties of non-standard foods, such as from vegetables, fish, or non-beef ground meats
Save time by pressing hamburger patties together with a press rather than shaping them by hand
Compress ingredients better, so they hopefully stay together on your grill or stovetop
Whatever your goal, a hamburger press is a good idea.
Type of Hamburger Presses
An excellent place to start searching for the right hamburger press is with understanding what kind of burger you want to make.
Do you want to use a burger smasher like you'd see in a diner? Are you interested in making perfectly shaped 4.5 in. standard patties? Or would you rather try something fancy and create stuffed patties as well?
And yes, whatever your burger-making goals, there's an option for you. You can find a burger press to smash patties together or one that allows you to pack ingredients more loosely, or even stuff a burger.
Your choice of hamburger press can also boil down to how many burgers you're looking to cook up at a time. Some presses support a single patty at a time while others let you create patties 2, 3, 4, or more at once.
As with many things, think through how you like your burgers. There are good options, no matter what your preferred burger-eating style might be.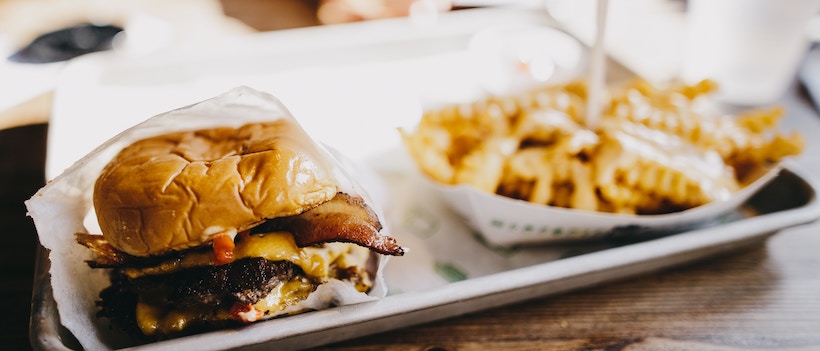 Construction Quality
Who wants to deal with a hamburger press that breaks down after one use? Not you, my burger-loving friend!
That's why it's essential to consider the press's material.
You'll generally find burger presses made from plastic, steel, and aluminum. Let's talk a bit more about those options.
Plastic
When it comes to plastic or silicone hamburger presses, the first thing you'll notice is they are lighter weight. The weight makes these presses easier to move around, especially when compared to more substantial stainless steel presses.
They're also usually more straightforward to clean than their metal counterparts – some are even dishwasher safe, making cleanup simple.
The downside? Although many silicone and plastic options are durable, they generally can't match the longevity of a metal option. Plastic presses just aren't as heavy-duty as presses made from steel or aluminum.
Steel
Burger presses made using steel tend to be the most reliable.
Typically, they're better at withstanding heavy, frequent use when compared to plastic presses. Also, although they generally aren't dishwasher friendly, cleaning them isn't that difficult either – usually they take soap and water.
Stainless steel is a well tested and classic material, so you don't have to worry much about dangerous materials either. Their biggest downside is simply the weight and maneuverability of the press – presses made of steel can be quite heavy.
Aluminum
An aluminum burger press is generally a decent balance between weight and durability.
With aluminum, you usually receive a press that resists corrosion well and will serve you well for years of patty-making. They're also typically cost-effective – aluminum presses are cheaper to produce and to ship than their steel cousins.
The downsides? They aren't quite as reliable, usually, as a steel press. There may also be some aesthetic issues with aluminum – over time, aluminum may experience some discoloration. This generally doesn't hinder its performance, however.
Ease of Use
Since a fantastic benefit of a hamburger press is the convenience of whipping up a burger at any time, it stands to reason that they should be simple to use.
Consider finding a hamburger press with a wide enough handle to grip comfortably. It may help if the handle is made from a soft or pliable material, which can be even more comfortable.
Another trait to consider is a non-stick coating. Non-stick coatings can be a bit controversial, but they certainly make burger-making easier if you find one for your press. The surface makes it less necessary to use grease or oil to remove your burger, and your press will produce fewer broken patties.
Another tip: use paper when making your patties. Using wax paper when shaping your patties can also allow the patties to come out smoother. Some hamburger presses may come with a supply of wax paper, so you won't have to purchase any separately until needed.
Other than helping the patties come out, wax paper is also useful when queueing your burgers for cooking (or storing in your fridge or freezer). You can wrap your creations between two pieces of paper and set them aside for future cooking.
Best Hamburger Press – Top 6 Reviewed
The Bellemain Burger Press Non-Stick Hamburger Patty Maker is made out of an aluminum housing that feels reliable and long. Bellemain designed a crafty mechanism for cleaning – it's easy to take the machine apart when it's time to clean up (and it comes back together just as fast).
Although it features a non-stick coating, some users report your patties may still stick – watch out for mixtures with a lot of water or fat. You might want to use wax paper on the bottom and top cubbies of the press while in use to help prevent that.
It does seem to press down quite firmly, and the spring-loaded pusher made it easier for most users to remove patties. However, for some users, the press didn't seem to move straight up and down. There was some wiggle room, so if you aren't careful, you might end up with misshapen burgers.
The Bellemain is simple to adjust to create burgers of various sizes. You can make patties that range from 1/4 in. to a whopping 1-1/2 in. thick. The overall diameter of the patty is a fixed, standard 4-1/2 in.
Pros:
Easy to adjust
Simple to take apart for cleaning
Users report it has a firm press
Cons:
Some users say it doesn't always create uniform patties
Might stick without the wax paper
---
The GWHOLE Non-Stick Burger Press is an affordable press made from durable, food-grade aluminum. It features a removable handle so you can better store it – and it also makes cleaning simpler. There are some user reports that the plastic handle doesn't exactly feel comfortable, though.
Overall, the GWHOLE burger press has a simplistic design that makes it straightforward to use. Some of you may have trouble getting the patties out at times – there's a chance they may stick in the press. However, the GWHOLE does come with 100 pieces of wax paper out of the box, and wax paper will ease the process a bit.
If you're concerned about aesthetics, there are grill lines on both sides of this burger press. This way, even if you cook your burgers indoors on the stove, they will still look like they came fresh off of the grill.
When you press down on the press, users report everything seems to offer the right consistency. This way, you can create more uniform patties. To adjust the thickness, you merely change the amount of pressure you're placing on the press.
Like many other presses, it produces a 4.5 in. diameter patty.
Pros:
Patties have a consistent size
Owners appreciate removable handle for storage and cleaning
Simple design for ease of use
Cons:
Grip may not be comfortable
Some users report patties sticking inside
---
The Shape+Store Burger Master 8-in-1 Burger Press has the excellent ability to make several patties at once. It is capable of holding a total of eight separate patties. Each mold holds approximately 2 pounds worth of burgers at once.
The Shape+Store is made from a plastic, silicone-like material that is dishwasher-safe, making clean up simple. Things can get messy when you use it, though, as some users mention that filling the mold with meat isn't mess-free.
Unlike some other burger presses, this one is not just safe for the dishwasher, but it's also freezer-safe. With the Shape+Store, you can create large batches of burgers, place the top of the burger press, and place it in the freezer for use later on. If you purchase more than one of the Shape+Stores, you can even stack them!
The size of the patties once you make them may not be as big as you expect, though. They come out at just over 3 inches in diameter with about 1 inch or so in thickness. However, they do seem to pop out well for cooking – even if you freeze them.
Pros:
Users appreciate the convenient design
Cleaning process seems quick
Large batch for those of you that need multiple patties
Cons:
Some users feel the size is too small
Can be messy to press ingredients into the mold
---
The Weston Burger Express Hamburger Press has an adjustable thickness that users appreciate. You can make a variety of burgers that range in thickness from 1/4 inch to 1-1/2 inches thick, and you can even adjust the patty weight from 1/4 lbs to 3/4 lbs. The Weston Burger produces patties with a standard diameter of 4-1/2 inches.
When you create the patties, it may not always produce a perfectly tight fit, but the spring plunger button can help make it more compact. This also can make for a simple removal process. Burgers generally seem to be consistent too for even cooking.
As you're using the burger press, the bottom features a stable, rubber material so that it won't move around. In spite of this design, the press appears to be a bit top-heavy. Some users report that it can tip a bit, creating something unstable unless you take care of how you use it.
As a whole, the press is made from heavy aluminum that features a non-stick coating. The burgers don't seem to stick, and the construction is reliable for long-term use.
Pros:
Stable bottom keeps it from moving around
Users mention it accommodates various patty thickness
Sturdy metal material
Cons:
Might not be tight-fitting when pressing a burger
Top-heavy design that some users have trouble with
---
The Burger Ion Burger Smasher features a simple design that many users enjoy – you press down or allow it to sit on a cooking burger. It is safe to use directly on your cooking source so you can squash your burger and create the perfect thickness you desire. The footprint measures out to a 6-inch diameter, but you ultimately control the shape and thickness by how much pressure you put on the press.
Holding it feels comfortable enough as the handle is smooth and well-textured. However, the handle is screwed into the piece, so there's a chance the screws can loosen, causing the press to turn unexpectedly.
Otherwise, the burger press appears reliable thanks to the stainless steel construction. In spite of the steel, it doesn't seem overly heavy either owing to its simple design. This material is also quick and easy to wipe clean once you're done using it.
The only other issue some of you may find is that the meat might sometimes stick to the press. If that is the case, then you may have to use wax paper or use cooking oil or spray before smashing the burger. This way, you won't have to exert extra effort sliding the press free.
Pros:
Handle feels smooth and comfortable
Quick and easy cleanup process
Users appreciate the straightforward design
Cons:
Some users report the burgers sticking to the press
Chance for the handle to turn
Doesn't shape your initial burger
---
The Cuisinart CSBP-100 3-in-1 Stuffed Burger Press provides you with more versatility in your burger creations. You can use it to create a standard burger patty or utilize the indention press to create just enough room to make stuffed patties.
It's user-friendly, too – you can create many different patties in a short amount of time. There doesn't appear to be much mess made when using it, and once you form your patty, you can press up from the bottom to remove it.
If there is something you want to watch out for, it's that the handle on the burger press might rotate a bit when you're using it. Be sure to have a stable grip to keep everything in place and press with the appropriate amount of pressure.
Also, even though it's easy, you may want to run some trial and error with the press. Some users found the recommended measurements don't always produce the expected results. You might want to add just a bit more meat to accommodate the stuffing part of the press. Otherwise, you may come away with too little meat!
Pros:
Easy to pop the burgers free
Innovative 3-in-1 burger-making design
Near mess-free design
Cons:
Users report a chance for the handle to rotate
Measurement instructions seem off to some owners
---
My Pick for Best Burger Press
Burger presses are almost a dime a dozen nowadays, but some still stand out above the rest for their ease of use and reliability. In this roundup, my choice for the best hamburger press was the Bellemain Burger Press Non-Stick Hamburger Patty Maker.
There are various thickness adjustments, and changing between them was simple for owners. It provides a firm, stable base and is constructed of durable, lightweight metal. You can even disassemble it for quick cleaning, making for an overall convenient piece of equipment to keep in your kitchen.