In a hurry? For me, the best espresso knock box is the Breville BCB100 Barista-Style Coffee Knock Box.
Drains and pipes get clogged too easily with coffee and espresso grounds, and nobody likes taking dripping coffee grounds to the trash multiple times a day.
Clearly, it's easier to empty your puck in your coffee-area – which is where the knock box comes in. You're already convinced, so in this post, I'll show you the best espresso knock box and several other fantastic options in this review.
Top Espresso Knock Boxes Reviewed
What Is a Knock Box?
A coffee knock box is a container for your used espresso or coffee grounds. It's typically used to empty your filter after you've pulled an espresso shot or otherwise brewed some coffee.
Why Do I Need a Knock Box?
There are three simple reasons every espresso machine needs a knock box companion:
Convenience
If you're making espresso for a group of people, it's a pain to go back and forth to the sink or trash several times. It's simply easier to empty your grounds into a specific nearby container.
Cleanliness
Liquid in the trash isn't ideal, especially if it drips when taking out the trash, leaving you with a mess to clean. The grounds you toss out may contain liquid that hasn't yet escaped – or leeches out after disposal.
Also, you may have to bang the puck against the side of the trash to free and dispose of all the grounds. In this case, you'll have to wash the portafilter before making the next cup of espresso.
Using a knock box, everything stays contained in a dedicated area, making it a one-stop simple and easy cleaning process.
Damage Control
On the same (gross!) note, banging the portafilter against the trash may damage both the portafilter and trash can.
If you opt for the sink instead – it's the same deal, or worse. The sink may ding your portafilter, and vice versa, and you might clog the drain. Even if you pour grounds down the garbage disposal, it might not get clogged, but the grounds can build up and clog your pipes.
With a knock box, the above scenarios simply don't exist.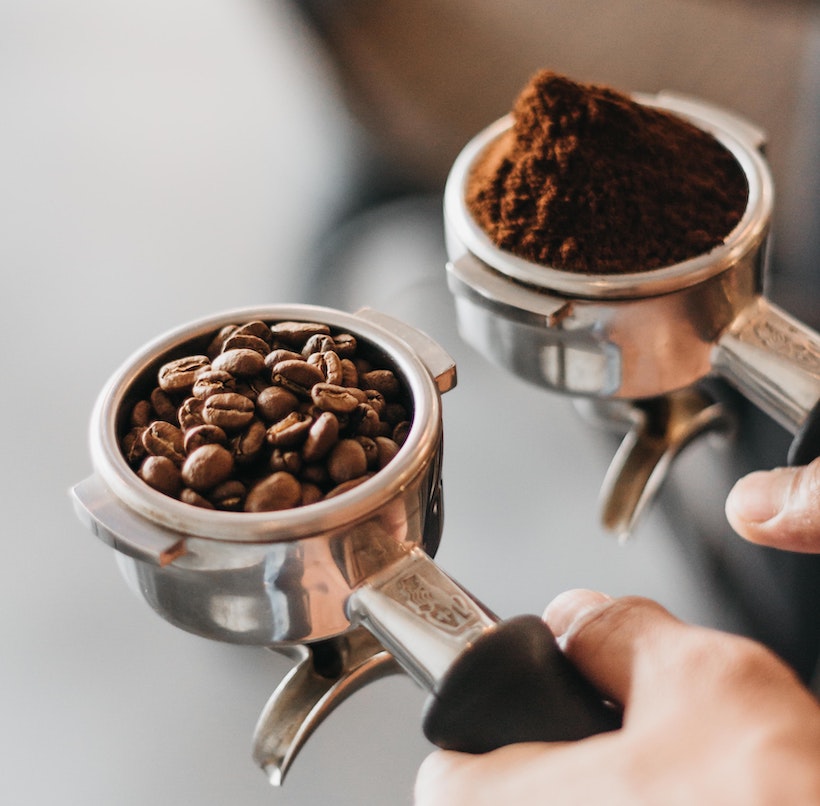 The Solution: A Knock Box
In theory, you could use any container to dump your grounds. I have a friend who uses empty cookie packets, but he has to regularly replace them because they're flimsy and need emptying once a day. They're also impossible to clean, haha.
Finding the best espresso knock box will add efficiency to your coffee routine, not become a burden unto itself. So, you've got to find one that works for your needs.
Size
Size and capacity aren't always the same thing. Overall size is a tiny bit more important than how much it holds—you can tolerate emptying something more often than you'd like, but something imposing on your space is unacceptable.
Consider the size of your kitchen and how much surface space you have. You want something that fits in your coffee-making station without making life harder on you. You'll also want it to fit in neatly and match the rest of your decor, and sometimes, size matters in that, too.
Look at the dimensions of the knock box you're buying to make sure it fits in your space and doesn't overpower your other kitchen gadgets and appliances.
Capacity
Once you've worked out what size knock box you can accommodate, figure out how much it can hold. If it can't handle too many grounds, you might want to clear more space for the box.
How much capacity you need depends on how much coffee you drink in a day. Only a cup or two? You could get a small knock box and empty it every two days, or at the end of the night.
Do you drink a ton of coffee? Get a bigger knock box—some can hold up to 20 portafilters worth of grounds.
Material
A sturdy material is a must for your knock box because you'll be banging the portafilter against it. Metal is ideal, but a strong plastic should work well enough, too.
Rubber knock boxes are also suitable because they're durable and unlikely to crack, but they do dent over time.
Ease of Cleaning
You want a knock box that's easy to clean, so it shouldn't be a complex shape or too heavy.
Remember, having a knock box is all about convenience, not about adding another difficult step to your kitchen-cleaning ritual.
A round or square knock box is best, preferably with a removable interior, so you don't have to displace the entire thing.
Review of the Top Four Best Espresso Knock Boxes
This first knock box – the Breville BCB100 – is barista-style, so you get professional quality at home with all the qualities you need for the perfect knock box.
First of all, it's a decent size without being too overbearing at 6.8 by 7 by 7.24 inches. However, it should still hold quite a few portafilters full of grounds, lasting you a day or two, or even more.
As well as being large enough to withstand a lot of knocks, it's sturdy, too. The knock bar is made from engineering-grade polymers so that it can take a decent beating. However, if you choose to knock against the edge of the box instead, the die-cast metal should hold up well.
The metal look of the box should also fit into almost any kitchen style. It's plain, chic, and doesn't either draw the eye or banish it.
Lastly, it has an easily removable dishwasher-safe interior, making it as easy to clean as possible.
Pros:
Easy to clean.
Large capacity.
Simple design.
Cons:
The impact bar is high, making coffee grounds splatter.
Some users question the durability of the knock bar.
---
Dreamfarm's Grindenstein knock box is more compact and should fit right alongside any espresso machine.
There are two size options and three color options, so every machine should have a match. One of the color options is black, in size 4.3 inches by 4 inches. The black should pair well with any kitchen appliance, while the box is compact enough to fit in the most cramped kitchen.
The knock box even comes with a booklet, suggesting you different ways to get rid of the grounds once the knock box becomes too cramped. You can then wash the knock box in the dishwasher, as it's the perfect height for the top shelf.
It's sturdy enough to be dishwasher-safe, but it can withstand a lot of beating. The solid steel core absorbs shock, rather than shattering because of it, giving you plenty of freedom to bash away the stubborn coffee grounds.
Pros:
Absorbs shock.
Compact.
Steel knock bar.
Cons:
Users found it can be difficult to control any splatter.
May be too small for avid coffee drinkers.
---
For something in the middle of the previous two options, the Motta 8250 6.5-inch knock box might be for you.
It's a simple, stainless steel option with a decently low knock bar, which should help control any splatter. It's also said to have perfect ergonomics, which should help further – coming in a "perfectly" round option. This removes the presence of any corner where grounds can get stuck.
It's safe to say Motta knows what they're doing—they developed this knock box with the help of the Italian Barista Association. If anyone knows coffee, it's going to be the Italian Barista Association.
Pros:
Handles for easy lifting.
Ergonomic design.
Great capacity.
Cons:
Due to its round shape, it can seem quite large.
Some users had difficulty maneuvering around the knock bar.
---
Cafelat's Tubbi knock box is unique on this list in several ways. One is that the manufacturer states how much the 6 by 5-inch knock box can hold—12 double espresso pucks. The other is that there are color options:
Regardless of color, it's made of ABS plastic, with some silicone, rubber, and stainless steel. Unfortunately, there are no specifics available on where the steel is in the knock box.
Most of the box is plastic, but the knock bar is rubber, making it sturdy enough to withstand continued hitting. The silicone is on the bottom, stopping the box sliding around.
The silicone and plastic elements are dishwasher-safe for easy cleaning; it's just the knock bar you'll have to hand wash.
Pros:
Easy to clean.
Lightweight.
Color options.
Cons:
Plastic is not as durable as steel.
---
Final Verdict
For me, the best espresso knock box is the Breville BCB100 Barista-Style Coffee Knock Box. It's large enough to hold a lot of waste, but not too large so it doesn't clutter the kitchen.
It can also withstand a lot of knocking while remaining light compared to one with a steel knock bar. It may not be as tough as steel, but it won't shatter. Overall, it's a very nice little knock box that works great!