In a rush? My top egg slicer choice is the Westmark Germany Multi-purpose Steel Wire Egg Slicer.
Big egg eater? Me too – that's why I really recommends you get yourself an egg slicer. It's reliable, efficient, and you can use it to slice those peeled, hard-boiled eggs evenly. Why risk slicing your finger with a knife, instead of the egg?
To help you pick the right slicer, I (ahem) sliced and diced the best options to show you what to look for when you're shopping. But, just in case you're in a rush, the 4 best egg slicers are:
Westmark Germany Multi-purpose Steel Wire Egg Slicer—Best Overall
OXO Good Grips Egg Slicer—Best Brand Reputation
BIBURY Egg Cutter Heavy Duty Slicer—Best Design
Westmark Germany Slicer with Seven Blades—Best for Multi-Purpose Slicing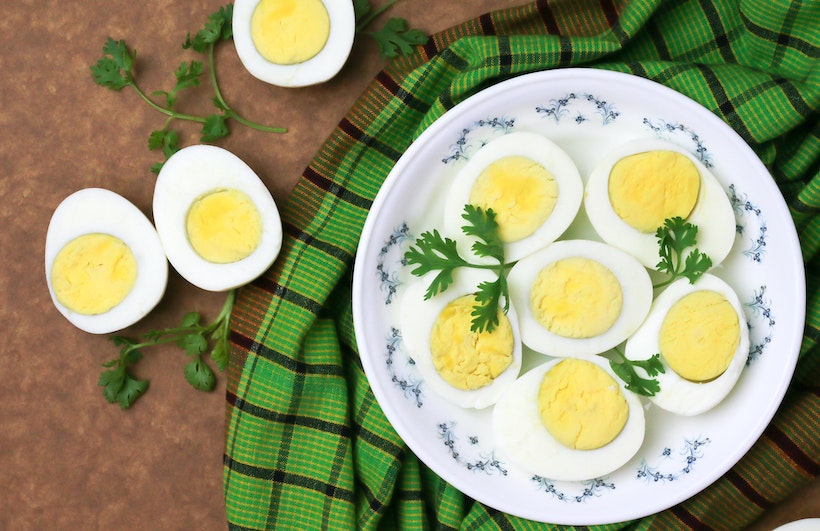 What to Look for When Buying an Egg Slicer
It's easy to get distracted by the diverse designs and styles of egg slicers. My buyer's guide will help you focus on the important features to keep in mind – at the end of the day, you really want reliable slices, after all!
Material
It's important to look out for the right construction of slicer. The materials that make up an egg slicer influence its effectiveness in slicing up the egg. Consider stainless steel wires as the cutting element because of their rust-resistance, durability, hassle-free cleaning, and precise slicing.
You could go for a plastic or metallic body. Both materials are generally fine to use. One thing to note – although the jury is still out, officially – plastic materials could contain BPA (bisphenol A) or other bisphenols, which we might eventually find out are harmful to our health. (I'm certainly avoiding them myself.)
In that case: make sure to read the product description and confirm that it's (at least) BPA-free. Additionally, if you're like me and keep an eye on these things – look for recycling numbers 3 and 7 or the initials "PC." A product with these labels is likely to have BPA or close cousins, BPF (bisphenol F) and BPS (bisphenol S).
Lastly, check if the egg slicer has a non-slip material such as rubber at the base. This keeps the device firmly on the surface while you use it. As a result, you're able to avoid unnecessary accidents in the kitchen.
Usage
A multi-purpose egg slicer will be more useful than a single-purpose one. Think about all the other foods you might be cutting. A multi-slicer will save you the struggle to cut even slices of cheese, butter, strawberries, mushrooms, and other soft foods. Always check the user's manual or product specifications to be sure about the diversity of its usage.
Design
There are egg slicers that only cut in one direction, and others which can slice vertically or horizontally. Then some can cut even wedges and halves, while some come with fancy additional features that allow you to garnish food or make fancier cuts.
You should think about all these when looking at the different features and designs of the egg slicer.
Dishwasher Safe
If you don't want the hassle of scrubbing every inch of the egg slicer after use, get one that is safe for use in a dishwasher. You shouldn't assume that all kitchen products are dishwasher-safe by nature – doing so could damage the egg slicer before you enjoy its full benefits.
For those with no dishwasher, make sure you clean the egg slicer well to avoid foul odor... and, after all, we're cutting eggs – so possible food poisoning. Proper cleaning will also contribute to the longevity of the slicer by avoiding potential corrosion and rust.
Size
The egg slicer size is important, especially for multi-purpose slicers if the foods you'll be slicing are slightly larger. A slicer's cradle portion needs to hold the egg well—horizontally and vertically, for a good slice.
Top 4 Egg Slicers: Reviews
Below we cover everything you need to know about the best egg slicers so you can decide which one is ideal for you.
If you're looking for a metal egg slicer, the Westmark Germany Multi-purpose Steel Wire Egg Slicer is the one. The wires are high-quality stainless steel, while the base and handle are aluminum. As a result, the product's durability is one of the best among our list.
You can also use this egg slicer to cut precise slices of other foods such as strawberries, kiwis, and mushrooms. Its ergonomic handle is comfortable and easy to use. You can slice several eggs without feeling any uneasiness.
The cradle is deep enough to hold the egg vertically for oblong slicing, or horizontally for round slicing. You could also decide to cut the egg both ways and serve it as an egg salad.
To prove its high confidence in this product, Westmark offers a 5-year warranty on its egg slicer. So, if you wanted an incentive to purchase a reliable kitchen appliance, there you have it. Oh: it's dishwasher safe to boot.
Be careful while using this egg slicer because it doesn't have a non-slip element at the bottom. Try not to use too much force.
Pros
It's strong and durable.
Multi-purpose use.
Easy ergonomic handle.
5-year warranty.
Cons
There isn't a non-slip material at the base.
---
This well-reputed OXO kitchen brand offers quality products at budget-friendly prices. The OXO Good Grips Egg Slicer has a plastic outer body and stainless steel blade that'll slice your egg into several 5 mm slices while holding it horizontally or vertically. So, you could easily slice round or oblong portions respectively.
The raised handle provides convenience in opening and closing the slicer. Then there's the rubber, non-slip base that keeps the egg slicer steady on the surface. Also, it slices all the way through. You won't find any pieces stuck in the wires (seriously, it's a good design).
As far as cleaning goes, it's dishwasher safe. However, even without the dishwasher, you can easily clean this egg slicer spotless within a short time.
Unfortunately, it's only ideal for slicing eggs. Slicing other food items might be possible, but it's not a recommended use of the product.
Pros
Durable, stainless steel blade.
Dishwasher safe and easy to clean.
Non-slip base.
Slice eggs vertically or horizontally.
Fits various egg sizes.
Cons
---
The first thing you'll notice about the Heavy Duty BiBURY dishwasher-safe egg slicer is its functional, ergonomic design. There are three cutting faces that give you the option of slicing your eggs vertically, horizontally, or into wedges. The 304 stainless steel wires are efficient in ensuring even slices.
Its cutting faces consist of a chrome-plated zinc material that's shiny and attractive. The base and cradle are solid pp plastic. A combination of the two gives you a sturdy yet bulky egg slicer. You can expect it to stay firmly in place.
The best part is that you can use it for slicing other foods in the kitchen. Therefore, you don't have to struggle (danerously!) with a knife when this egg slicer can cut ten even pieces of strawberries in one go.
Without a dishwasher, it can be time-consuming to remove food particles from the plastic cradle.
Pros
Durable, stainless steel wires.
Unique and functional design.
Multi-purpose.
Cons
Time-consuming to clean if you don't have a dishwasher.
---
Westmark's Germany Style Seven Blade Slicer is different from the others on the list. It has a long, ergonomic cast aluminum handle that you hold comfortably while pressing down to slice eggs, mushrooms, or strawberries. The seven quality stainless steel blades provide a fast and precise cutting solution.
A long handle eliminates the need for a non-slip base and overexerting yourself. In fact, you can hold it over a bowl so that when you slice the food, the pieces fall right inside.
Cleaning is simple and easy. You can use a dishwasher or do it manually. Make sure you keep the east top clean, so that the food remnants don't dry on the blades or cradle. Be careful when hand washing because the blades are very sharp.
The only drawback is the small plastic retainer you must slip over the handle to keep the egg slicer closed. It tends to slip off easily.
Pros
Strong blades.
Easy to clean.
Simple and effective to use.
Can be used to slice other food items.
Cons
The closing mechanism is unreliable.
---
Best Egg Slicers: The Verdict
That marks the end of our egg slicer review and user guide. It shouldn't be hard to find a product that works efficiently and lasts long.
From the list, I prefer the Westmark Germany Multi-purpose Steel Wire egg slicer. It's great for slicing eggs – and other food items, too. The metallic build makes the device durable, and I appreciate the convenience of being able to throw it in the dishwasher. (Not to forget the 5-year warranty.)
Whichever product you opt for, make sure it meets your slicing needs and doesn't malfunction after using it a couple of times – good luck slicing out there!