In a hurry to camp? My pick for best Dutch Oven for camping is the Lodge Deep Camp Dutch Oven.
Dutch ovens have been a campsite essential for decades—the cast-iron construction makes the oven resistant to wear and able to withstand harsh conditions. Furthermore, they can be placed directly over an open fire, so you don't have to rely on your RV's – or tent's – kitchen.
You can cook a variety of delicious camp food to keep you warm during the night and full throughout the day. I'll show you a few points to consider before buying the best dutch camping oven for your situation.
Top Camping Dutch Ovens Reviewed Today
Finding the Best Dutch Oven for You
Going camping without a Dutch oven is like going skiing without a jacket—it's possible, and you'll still have fun, but something will be missing. Trust me: if you've never used a Dutch oven on a camping trip before, you're in for a treat.
A Dutch oven is a heavy-duty pot that's commonly made out of cast iron; however, you can also find enameled coated ovens. This type of cookware is ideal for campsite cooking due to its durable nature that enables it to withstand both the high heat of an open fire and the abuse cookware takes when you use it camping.
It's generally used to cook slow-cooked dishes, such as stews. However, Dutch ovens are also excellent at baking a variety of goodies, such as sourdough bread, pizzas, and pies.
In saying that, it's essential to find the best Dutch oven for you and your camping style. I'll help you out in the points below: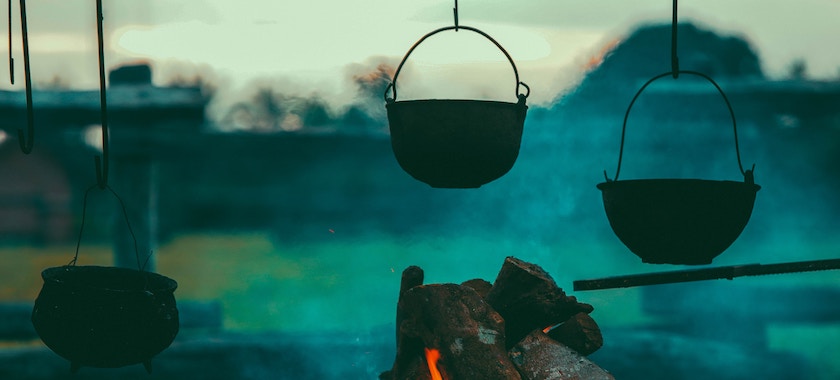 Preseasoned vs. Unseasoned Ovens
If you're familiar with cast iron cookware, you'll know the importance of seasoning the pot. (I'll explain in detail how to season a Dutch oven further down.)
You season cast iron to help create a black or brown patina. Many people think that you season cast iron to create a non-stick surface; however, it's more of a 'less stick' surface than anything.
Seasoning cast iron will help to form a natural, easy-release surface, but not an entirely non-stick one. Furthermore, seasoning cast iron will help to prevent rusting.
If you're new to cast iron Dutch ovens, I recommend that you choose a preseasoned pot for the convenience. However, if you'd like to know precisely the surface you're cooking on, go for an unseasoned Dutch and season it at home.
It's important to note that with preseasoned Dutch ovens, it can be challenging to discover which oils and coatings were used in the seasoning. More high-end brands will use natural oils to preseason their cookware; however if you season a pan yourself, you know exactly what you're getting.
Size
When you're going camping, smart packing is crucial—you don't want to overpack, but you also don't want to miss anything. And you also want to optimize for something reasonable to store back home.
What size Dutch oven you'll need depends on how many people you're going to feed. If the whole family is going camping, you'll need a Dutch oven that's big enough to feed the entire family in a single batch.
Using an oven that's too small is going to cause a few issues. You might not be able to portion the food reasonably, meaning people get less food. You might be forced to cook the dish twice to make enough—which is tricky since Dutch ovens are well suited to slow-cooking.
A good rule of thumb is to count every person as 1 quart—a quart will serve one to two people. Keeping this in mind, if you're a family of four, choose a 4 to 6 quart size.
Weight
Dutch ovens are certainly on the heavier side of cookware. Most pots weigh well over 12 pounds—and that's before the stew! It's important to consider the weight, especially when it comes to transporting the oven.
You must also be aware that the weight can make the pot trickier to handle when hot. Therefore, look for large handles that enable you to wear thick mittens or fire safety gloves while maintaining a secure grip.
Other Essential Tools and Accessories
Handling a heavy Dutch oven over an open fire can be a challenge; it's, therefore, essential to have the right equipment. I have made a helpful list of a few tools and accessories that will get the campfire cooking started:
Lid lifter: Depending on what you're cooking, there might be hot coals on the lid, which makes it challenging to remove without this tool.
Safety gloves: Safety is essential, especially if you're camping off-grid. Having a pair of durable fire safety gloves is crucial when you're dealing with an open fire. Cast iron heats to extreme temperatures, so you must protect yourself.
Tripod: A tripod is a convenient accessory that enables you to hang the Dutch over the fire. This also helps you regulate the temperature during the cooking process.
Quick Guide to Cast Iron Seasoning
Whether you choose a preseasoned or unseasoned cast iron Dutch oven, at some point, you will have to season it. As I explained earlier, you season cast iron to create a smooth surface that won't rust.
There are various ways to season cast iron; however, if you do it wrong, it will eventually rust. Here's a quick and easy way to season your new cast iron Dutch oven:
Clean and dry thoroughly: The first thing you should do is wash the Dutch with warm soapy water. Give it a light scrub with a sponge, then rinse and dry thoroughly.
Bake: Set the oven to 350 degrees Fahrenheit and pop the Dutch into the oven with the lid on for 30 minutes.
Let cool: After 30 minutes, take it out of the oven (carefully) and allow it to cool to the touch.
Apply oil: Once it's cool enough to touch, remove the lid and apply a thin layer of vegetable oil.
Repeat: Place the lid back on and bake for another 30 minutes in 350 degrees Fahrenheit.
Want a more in-depth guide? See our more extensive cast iron seasoning post.
Best Dutch Oven for Camping
Having a great Dutch oven with you on your camping trip enables you to cook warm, comforting food over the fire. Above, I shared a few tips and considerations you should make before buying.
Now, it's time to reveal my picks for the five best Dutch ovens for camping.
The Lodge Deep Camp Dutch oven is an excellent addition to a family camping trip due to its large size. This particular Dutch can hold up to 8 quarts; however, it's also available as a 10-quart or even a 5-quart if you're packing light.
It was designed using top-quality cast iron to ensure there are no harmful metals—such as lead—included.
It comes preseasoned using soy-based vegetable oil, as opposed to synthetic options. Additionally, it features four legs for stability as well as a tight lid that keeps moisture and heat well-distributed.
You can easily cook a variety of delicious dishes while camping—whether you'd like a roasted chicken or beef stew. Lodge does, however, warn against cooking with highly acidic ingredients, such as tomatoes and beans. Acid can break down the seasoning of the cast iron, and if this happens, you'll have to re-season it.
Pros:
Ideal size for families.
Easy to store and transport.
Users found it to be excellent for baking.
Free of harmful metals and chemicals.
Cons:
Owners noted that this Dutch oven got very heavy with food inside.
---
This Lodge Cast Iron Dutch oven can hold up to 5 quarts and is designed with a rounded lid. The rounded cover provides a different cook as it allows the heat and moisture to circulate the Dutch differently. However, it's an excellent choice for campers who enjoy freshly baked bread or delicious meats.
Apart from the rounded lid, it also has a wire bail handle that's easy to carry and hang on a tripod while cooking. It comes pre-seasoned with a soy-based oil that's natural and free of chemicals. The soy seasoning creates a nearly non-stick cooking surface.
Cleaning this Dutch is very straightforward. All you have to do is rinse it with hot water—there's no need for soap or abrasive scrubbers.
Pros:
Owners praise this Dutch oven for easy and delicious cooking.
You can use it on a grill, tripod, or directly on the fire—and when you get home, pop it in the oven or on the stove when cooking.
This lid pops easily on and off and has a large handle that's easy to grab—even when wearing fire safety gloves.
Cons:
The preseasoning might not last for long, and it is recommended to re-season it after washing.
---
The 4-quart Camp Chef Classic Dutch oven comes with a flat lid that's ideal for when you want to create all-around heat by placing coal on top. The flanged edges will help to prevent coal and ashes from entering the pot as you move the lid.
The Dutch pot and lid are preseasoned with a True Seasoned Finish that creates an easy-release cooking surface. Furthermore, it comes with a built-in thermometer notch so you can keep an eye on the food while cooking. The bail handle enables you to quickly move the Dutch to and from the fire, or to hang it while cooking.
Pros:
With a depth of 3 ¼ inches, it's an excellent size for a variety of dishes, including bread and casseroles.
The lid design keeps coal and ashes out of the stew.
The three feet are super helpful when it comes to stabilizing the Dutch oven on different surfaces.
Cons:
Owners noticed that the lid wobbles and doesn't create as tight of a fit as they'd like.
---
Made of high-quality cast iron, the Overmont Camp Dutch oven provides superior heat retention and distribution. It comes in medium and large sizes, with the medium being 11.2 by 11 inches and 8 inches deep. It's a good size for a family camping trip without taking up too much space in storage.
The flat lid serves multiple purposes when cooking. It's fitted with three supporting feet so you can turn it over to use the lid as a griddle or frying pan—convenient for breakfast eggs and even pancakes. Furthermore, it's safe to use on a variety of cooking tops, so when you get home, continue to use it on the oven or stove.
You get an included lid lifter to help you remove the lid without risking a burn. Wash it using warm water only and lightly cover it with oil while still warm to keep the seasoning.
Pros:
This Dutch oven is preseasoned with a natural coating that's free of chemicals or synthetics.
You can find supporting feet on the lid as well as on the bottom of the pot. These provide you with extra stability and the option of turning the lid into a frying pan.
Owners love the fact that they can continue to use this Dutch oven when they come home.
Cons:
Users found that the handle wasn't sturdy enough when the pot was full. Furthermore, it made it difficult to use a tripod when cooking.
---
The rugged cast-iron construction makes the Texsport Cast Iron Dutch oven very durable and creates an exceptional heat distribution. The flat lid enables you to easily place hot coal on top to create an even better cooking environment. Furthermore, the cover fits tightly and keeps heat and moisture where it should be.
This pot is only 4 quarts, making it suitable for couples and small families. It's not preseasoned; therefore, you have to season it yourself before using it.
Pros:
Users praise the material for campfire cooking.
Another feature that owners love is the sturdy legs that provide good air circulation for the coal.
The lid sits heavily on the oven, enclosing heat and moisture.
Cons:
It's essential to heat and wash the pot thoroughly before seasoning. The manufacturer adds a thin wax film to prevent rust before seasoning.
---
My Pick for Best Dutch Oven for Camping
It's nice to be able to cook a warming meal while camping, and for this, you really want a cast-iron Dutch oven. These ovens have a durable, rugged design that enables you to cook your favorite meals on an open fire easily.
In my mind, the best Dutch oven for camping is the Lodge Deep Camp Dutch Oven. It's made of high-quality cast iron and can cook a variety of dishes and can cross over and bake as well. Furthermore, Lodge discloses the seasoning upfront – it's preseasoned with a soy-based oil, and is safe to use right away.