In a hurry to bake? My pick for best Dutch Oven for bread is the Le Creuset Signature Dutch Oven.
Baking your bread in a Dutch oven will result in a beautifully-browned loaf that's crisp on the outside but airy in the center. Dutch ovens function by distributing heat equally all around the dough, creating a snug center for bread to cook.
Although these Dutch ovens appear similar in design, there are vital features to look for to find the best Dutch oven for bread. It's essential to get the right size and thickness to obtain a delicious bake.
Let's look into this – and much more – in the guide and roundup below.
Top Dutch Ovens for Bread Reviewed
What Is a Dutch Oven?
Dutch ovens at their core are heavy cooking pots with a tight-fitting lid. This type of cookware is used for a variety of dishes and methods, such as stews and braising.
Due to the nature of a Dutch oven (generally, slow-cooking), it's not an everyday piece of cookware. It's also quite heavy owing to its cast iron construction, which can be tiring to work with on a daily basis.
One thing to look out for is the handles. These will get extremely hot, especially when the Dutch oven has been baking in a regular oven. Make sure you protect yourself and wear oven or high-heat welding mitts when handling a hot Dutch oven.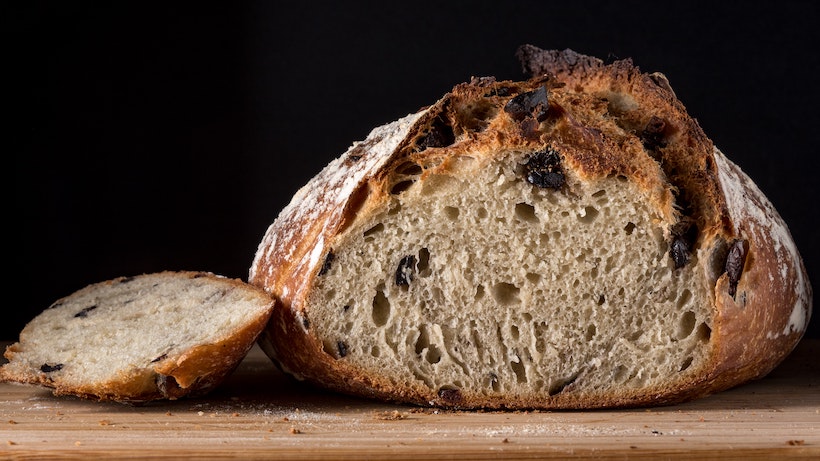 Why Are They Good for Bread Baking?
Dutch ovens have been used for a long time to bake a variety of goodies. The thick cast iron creates a radiant heat that acts similarly to a stone hearth. Additionally, the tight lid keeps steam and moisture inside the pot, which will result in a crispier crust.
Possible Downsides to a Dutch Oven
Although cast iron cookware has a bad reputation when it comes to cleaning, enameled Dutch ovens are relatively easy to maintain. It's important to note that if not cared for properly, cast iron pots can rust, rendering them unusable – although you can usually clean a light rust. To improve the durability of the pot, some manufacturers use an enamel coating to protect the cast iron.
The coating makes the pots easier to clean, and you won't have to worry about rust. In saying that, the enamel coating can crack or chip, which again will expose the iron and risk rust. Furthermore, the enamel coating is generally white or light-colored, which makes any chip, crack or rust highly visible and challenging to work around.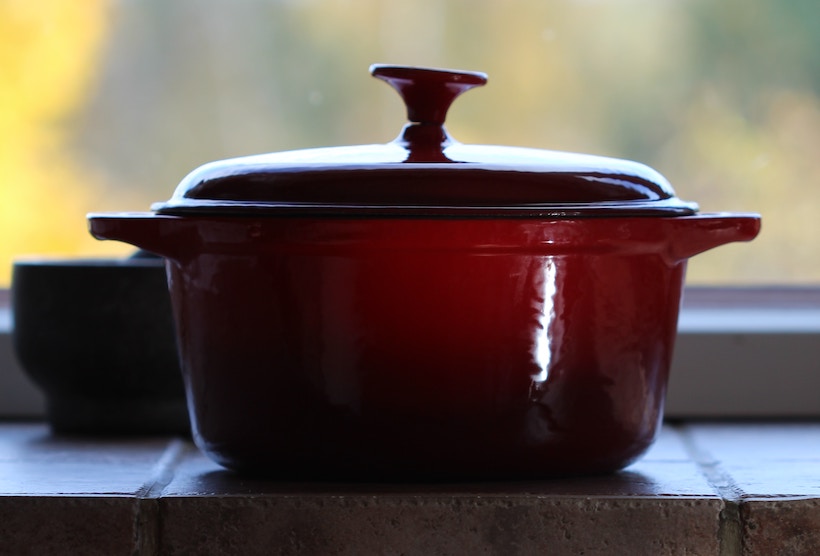 How to Find the Best Dutch Oven for Bread
If you're on the hunt for a new Dutch oven to bake your favorite loaf, it's essential to know what to look for when shopping. I've gathered a few critical considerations to make when choosing your pot.
Size
Dutch ovens come in a variety of sizes to accommodate different dishes. However, it's crucial to choose the right size when baking bread.
The ideal size for bread baking is between 5 and 7 quarts—this will result in a lofty loaf that's evenly cooked. Choosing an oven that's too small will compromise the rising space for the dough, giving you an uneven cook. On the other hand, if the pot is too large, the mixture will spread out, resulting in a flat, dry loaf.
The thickness of the Dutch also plays an important role in how your bread will turn out. Thicker walls will have a better heat-retention that will provide you with an evenly browning crust on your bread. You can judge the thickness by its weight—ideally, a Dutch oven for bread should be at least 10 pounds.
Material
Enameled cast iron is an excellent choice for bread baking because of its easy-release surface. Unlike raw cast iron that requires seasoning, enamel can be used straight away out of the box. Furthermore, you're able to find a range of colors to suit your style.
Lid Type
You can find Dutch ovens with glass lids on the market; however, I recommend choosing solid covers with a heat-proof knob. A solid lid will retain heat better, giving you optimal baking conditions.
Reviews of the 6 Top Dutch Ovens for Bread
Now that you know what a Dutch oven is and why it's excellent for bread, it's time to reveal my top six.
This Dutch oven from the French brand Le Creuset weighs a little over 12 pounds and can hold five and a ½-quart—enough to bake a lofty, airy loaf of sourdough.
It features large handles that are 45 percent larger than similar ovens. This enables you to get a secure grip when taking it to and from the oven or stove. Additionally, the lid features built-in stabilizers that secure it in place while retaining heat and moisture.
The composite knob is highly resistant to high temperatures—ideal for ovens as it won't be damaged.
It's incredibly resistant to wear thanks to the enamel coating. Unlike others, the interior is sand-colored so that it won't stain as easily. Additionally, it's dishwasher safe and can withstand temperatures up to 500 degrees Fahrenheit.
Pros:
This Dutch oven provides optimal heat distribution and retention.
It helps to bake your bread evenly, giving you the best result possible.
The knob is made of composite material, making it highly heat-resistant
The ergonomic handles are large and easy to grab while wearing thick mitts.
Cons:
Owners have noticed that food tends to stick slightly when cooking on high heat; however, it's easily cleaned afterward.
---
This AmazonBasics enameled Dutch oven is a budget-friendly choice that doesn't compromise functionality. It can hold an impressive 6 quarts, making it an ideal size for baking bread.
It provides an even heat distribution and heat retention for optimal cooking. Furthermore, it's safe to use in temperatures of up to 400 degrees Fahrenheit. The tight-fitting lid won't slide as you move the pot, and the loop side handles are easy to grab securely.
You can use the AmazonBasics Dutch oven on a variety of cooking tops or in a variety of places, including stoves, ovens, and grills. Additionally, you can use it for cooking a variety of dishes due to the vitreous enamel that won't react to food.
Pros:
This Dutch oven weighs around 13 pounds, and it has thick walls and a thick bottom that promote a more even bake.
The enamel finish enables you to use the pot for a variety of dishes, including acidic meals such as tomato-based sauces.
The tight lid helps to trap the heat, keeping steam and moisture inside the pot.
Cons:
When something burns or browns a little too much, the inside of the Dutch oven tends to stain.
Users also found that it required more soaking and scrubbing to clean off burned bits.
---
The Crock Pot Artisan Round Dutch oven is made of thick cast iron with an enameled coating that provides a non-stick surface. You can easily grab the pot while wearing thick oven mitts thanks to the large handles.
It can hold 5 quarts and is safe to use in temperatures up to 500 degrees Fahrenheit—an excellent size and spec for a no-knead bread recipe. Furthermore, you can use this Dutch oven on a variety of cooktops, including electric, gas, and induction.
The self-basting lid helps to keep heat and moisture inside the pot while cooking. This will help you to achieve a crispier crust with an airy center ready for a slab of butter.
Users are reporting excellent value for money as they're able to cook a variety of dishes as well as different bread recipes.
Pros:
The stainless knob is safe to use in temperatures of up to 500 degrees Fahrenheit.
The cast iron construction makes the pot highly durable, while the non-stick coating makes it resistant to wear.
This lid creates a self-basting environment that retains and distributes heat evenly.
Cons:
Users have found that if the inside isn't dried promptly and adequately after washing, it develops rust spots.
---
The thick cast iron construction of the Staub Round Cocotte Dutch Oven provides an optimal baking environment by trapping heat and moisture—ideal for sourdough recipes.
The interior of this Dutch has a matte texture that further helps to create an attractive browning on the bread. Furthermore, the inside of the lid features self-basting spikes that help to distribute moisture.
You can safely use the pot in temperatures of up to 500 degrees Fahrenheit with the lid, and up to 900 degrees without the lid. It's also dishwasher-safe; however, the manufacturer recommends hand washing when possible.
The nickel steel knob won't be damaged when placed in the hot oven. However, it will be hot, so be cautious when handling the lid. Additionally, the ceramic bottom is safe to use on any cooktop on low to medium heat.
Pros:
The tiny spikes inside the lid help to retain heat and moisture.
Cooking oils will seep into the tiny pores within the cast iron construction, preserving the non-stick surface.
The finish will help to prevent chipping and cracks, prolonging the life of your Dutch oven.
Dishwasher-safe.
Cons:
Owners have reported that this dutch oven is quite heavy to carry to and from the oven.
---
This AIDEA Enameled Dutch oven can hold 3 quarts, excellent for smaller loaves of bread. It's made of high-grade cast iron with an enameled coating that keeps the heat evenly distributed.
You can easily use this Dutch oven in a variety of cooking situations, including on gas and electric burners and in ovens. The enameled coating makes it safe to use in temperatures of up to 450 degrees Fahrenheit.
Furthermore, the lid fits tightly and will retain heat and moisture using the tiny bumps underneath.
It's not dishwasher-safe; however. The manufacturer recommends soaking it in baking soda and water if needed. Regular maintenance includes warm water, a squirt of soap, and a sponge.
The pot is covered by an 18-month warranty that covers any possible damages or defects.
Pros:
The handles are large and easy to grab while wearing oven mitts.
It's easy to clean using a sponge and regular dish soap.
This Dutch oven is both FDA tested and approved.
18-month warranty.
Cons:
Users reported that they had to treat it with a bit of oil before cooking or baking.
---
The Cuisinart Enameled Dutch oven was designed to last you through the years. It's made of a cast iron construction with a durable porcelain enamel exterior and interior.
Porcelain enamel is excellent for cookware since it doesn't absorb flavors or odors that could alter your next meal. It's ideal for baking, frying and searing as well as cooking dishes such as stews and casseroles.
Maintenance is as easy as it gets since you can safely wash the pot in the dishwasher. Furthermore, you can use the pot with a variety of cooking methods, including ovens, stovetops, and broilers.
Not to mention, it's available in three stylish colors, including Provencial blue, Cardinal red, and Cast Iron black.
Pros:
This Dutch oven can hold 5 quarts, which makes it ideal for baking a variety of goodies.
The porcelain-enameled coating is highly durable and rich in color. It's
Ideal for cooking a variety of dishes since it won't affect the flavors.
Dishwasher-safe.
Large handles are easy to grab.
Cons:
Many users have reported chips around the exterior of the pot.
---
No Knead to Discuss: My Pick for Best Dutch Oven for Bread
I won't argue, Dutch ovens are excellent cookware for any type of dish, but especially bread. The thick walls and cast iron material makes a Dutch oven excellent at retaining and distributing heat evenly.
My pick for best Dutch oven for bread has to be the Le Creuset Signature Dutch Oven. The heavy-duty cast iron material with the non-stick interior and enameled coating make it hard to beat when it comes to quality. Moreover, it offers an excellent value for money and is sure to be used for other dishes than bread as well.