In a hurry to fry? For the best deep fryer for home use, I recommend the T-Fal FR600D51 Odorless Stainless Steel Lean Deep Fryer
Are you in a dilemma in choosing the best deep fryer? Many believe that fried food has little nutritional value. However, according to science, some foods such as vegetables are actually healthier if we fry them with extra virgin olive oil versus boiling.
Electric deep fryers are versatile kitchen appliances that are typically easy to use. They always come with a lid to avoid any splattering of hot oil. The best deep friers also have several other features, such as oil filtering and easy cleaning.
In this article, I'll discuss what to look for in a fryer and review five of the top contenders for the best deep fryer for home use.
Top Deep Fryer Models Reviewed
How to Choose a Deep Fryer
The best deep fryers in the market have easy-to-use features that produce high-quality deep-fried food. They also have adequate safety features. All our reviews today are for electric products, which we consider the best and most versatile. (You have other options, though, I just wouldn't suggest them first.)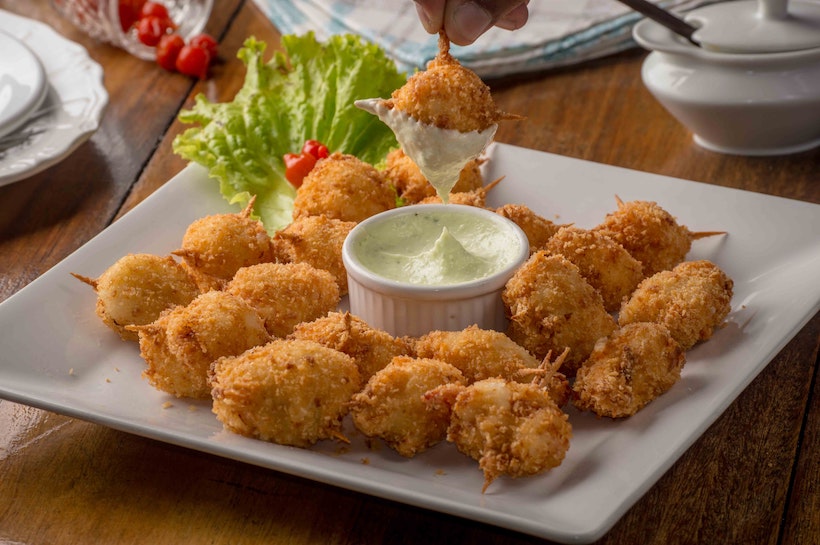 Difference Between an Electric Deep Fryer and Propane Fryer
Electric fryers use an electric element within the pan to heat the cooking oil, which then fries delicious foods. Propane fryers typically operate off a building's gas line or a gas tank.
Once ignited, they heat the oil, which cooks the food in the fryer. Gas deep-fryers heat up faster than electric deep fryers and are available in three main designs: open pot, tube, and flat-bottom design. Each of the models has its benefits and drawbacks.
Electric deep-fryers come with additional functionality, including timers and audible alarm tones unavailable in basic propane deep fryers.
How About an Air Fryer?
If you are watchful about your health and still crave fried food, consider using an air-fryer. There are several variations available, all use very little cooking oil and employ heated air to fry foods.
While you can get some great results using air, the flavor rarely matches deep-fried food.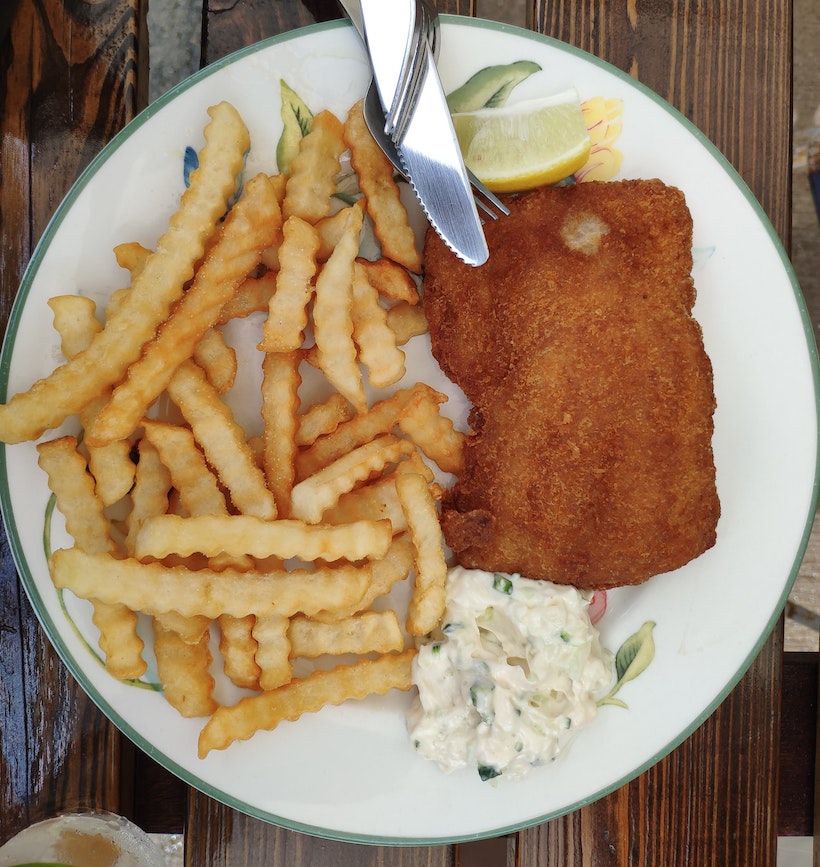 Factors to Consider When Buying a Deep Fryer
Let's discuss what to look at when you're in the market for a deep fryer.
Size
There are two size considerations — capacity, that's the amount of oil and food the product will take, and dimensions, how much bench or cupboard space the product will take up.
If you prepare food for many people, you'll want to get a deep fryer with a decent capacity. A fryer of smaller dimensions is more suitable if you have limited countertop space and small kitchen cabinets.
Odor Filter
Deep frying leaves fast-food smells around the house. Therefore, deep fryers with odor filtration and venting are a plus. (Some folks might even argue: a must!)
Thermostat
Continuously testing the temperature of oil while it is heating is unsafe. Deep fryers with a thermostat that regulates the cooking oil's temperature ensure your safety and guarantee uniformity in the quality of food.
Cooking Oil Disposal
You should learn to dispose of used oil in your deep-fryer properly. It is possible to reuse some oils several times. However, after the oil goes off, there are procedures for its safe disposal.
Reviews of the Top Five Home Deep Fryers
We've reviewed the best deep fryers for home use on the market. Get started preparing your unique deep-fried meals today.
The T–Fal FR600D51 fryer has a unique system of filtration, which, according to the manufacturers, reduces odors by up to 74 percent.
With a 3.7 quarts cooking oil capacity, the fryer is suitable for frying vegetables, meats, and fish. It also has an automatic oil filtering system to drain cooking oil after use to a separate compartment. This reduces wastage and removes food debris particles.
The fryer is tall to ensure the oil does not cause splatter when frying without the lid. It also comes with an anti-fog window that you can use to watch your food while it is cooking. The adjustable thermostat ensures that the oil doesn't overheat and provides consistent cooking results.
All washable parts are easy to detach. According to users, the frying basket and the lid, as well as other components, are safe in a dishwasher.
Pros:
Odorless cooking.
Oil filtration.
Easy to clean.
3.7 quarts cooking oil capacity — great for appetizers, desserts, and main-course dishes.
An 1700-watt heating capacity.
Adjustable thermostat.
Adjustable timer.
A removable cooking oil storage container.
A sleek finish.
Anti-fog viewing window.
Cons:
It requires more storage space.
Shorter warranty period — 1 year.
No replacement parts.
---
The Presto O5420 FryDaddy is an excellent alternative to bulkier and more expensive models. It boasts a small and compact size and a non-stick surface on the inside and outside of the fryer. 
Users who don't have the kitchen space for additional appliances but still want to make crispy and delicious food find it convenient and easy to use. The fryer also sports an 1200-watt heating capacity, and inbuilt thermostat for regulating heat.
If you are looking for a portable fryer, the Presto 05420 FryDaddy comes with a handle that is both firm and insulated. According to the instructions, four eight-ounce cups of oil fill the fryer. However, some users have reported using much less oil (and they could get away with as little as they wanted).
The fryer is ideal for preparing snacks, appetizers, and other basic frying tasks. However, it is not appropriate for larger main courses. Some users have complained it doesn't come with a frying basket.
Pros:
Small and compact — fantastic for appetizers and snacks.
Easy to use — particularly for first-time users.
Portable.
Affordable.
Two-year warranty.
Non-stick surface both inside and outside.
An 1200-watt heating capacity.
Built-in thermostat.
Draining scoop included.
Cons:
No frying basket.
It does not indicate when the cooking oil is ready.
Relatively small — might not be ideal for main courses.
Not dishwasher safe.
---
The Cuisinart CDF-200 Deep Fryer is one of the most tempting and easy to use deep fryers available thanks to its ability to maintain consistent oil temperature. It also produces restaurant-quality food. 
This fryer features a powerful 1800-watt heating component, detachable for easy cleaning. The heating element generates heat evenly, which prevents food from burning.
With three frying baskets – a large one and two smaller ones – you can conveniently fry different foods at once. The fryer has a 4-quart oil capacity and a food capacity of up to 2.3 lbs., which makes it fantastic for preparing large meals.
This fryer is dishwasher safe once disconnected from a power source and comes with a one-year warranty.
After working with the Cuisinart CDF-200 Deep Fryer, I found it relatively easy to use. The heating element gets hot quickly and delivers on the promise of producing high-quality fried food consistently.
However, experts and ordinary users find it somewhat bulky. The controls are also inconveniently at the back, which could expose the user to unnecessary accidents.
Pros:
A powerful 1800-watts heating element.
Easy to assemble.
Four-quart oil capacity.
It has a viewing window to monitor the frying process.
Cons:
Controls are at the back of the fryer.
It occupies a large amount of countertop space.
---
The Hamilton Beach Triple Basket Electric Deep Fryer is a popular fryer with users who prepare family-sized meals. It comes with a triple basket that allows you to fry about a 12-cup capacity of different types of food. The fryer also features an 1800 watt immersed heating element that helps fry food quickly and evenly. 
The fryer comes with an incremental temperature dial that goes up to 375 degrees Fahrenheit, but it has no thermostat settings, so some users found it challenging to get consistent results.
It avoids splattering with the use of a vented lid that also allows you to watch the food while it is cooking.
Cleaning after use is relatively easy as the fryer has several removable parts. The baskets, enamel-coated cooking oil tank, and lid are all dishwasher safe.
As an additional feature, the fryer's basket has a hook for easy and mess-free draining.
Pros:
Large capacity — able to cook up to 12 cups of food.
Easy to assemble.
An impressive 1800-watt heating element.
Adjustable temperature.
A viewing window to monitor the flying process.
Three frying baskets — that allow you to fry different types of food.
Breakaway cord.
Large size — Ideal for family size meals.
Cons:
It occupies a lot of countertop space.
It does not come with a filter — it is sold separately.
The lid is not attached to the fryer.
It requires a lot of cooking oil.
Users said it is difficult to maintain desired temperatures.
---
The Secura Triple-Basket Electric Deep Fryer is a top pick for families who enjoy fried food. It is also perfect for people who entertain guests and friends and want to treat them to tasty fried meals. 
This deep fryer can prepare two different dishes at the same time. So french fries on one side and onion rings on the other side isn't a problem.
Many users found it extremely easy to handle. It has heat control dials, convenient for preparing different food. The fryer also features an automatic timer that is adjustable for up to an hour.
The manufacturer pays a great deal of attention to the safety of the user. The fryer comes with many safety features, including a magnetic breakaway cord. You will also love the lid, which prevents splatters while also allowing you to view your food's progress through a large enough window.
Additionally, the fryer has an extra set of odor filters that remove impurities from cooking oil. You can, therefore, reuse oil and minimize wastage while also ensure you get quality results.
The odor filter will guarantee that unpleasant smells don't fill your house whenever you fry. Cleaning also comes easy. You can remove the frying parts and put them into the dishwasher.
Pros:
Easy to clean.
Adjustable heat control.
Automatic timer.
Odor filters.
Three frying baskets.
Lid with a viewing window.
Durable — made of stainless steel.
A powerful 1700-watt immersed heating element.
Indicator light — that shows when oil reaches a specified temperature.
A sizeable removable oil tank.
Cons:
Short power cord.
It does not have a dispenser to remove the cooking oil.
Attaching the frying baskets to the handle can be challenging.
Some users complained the lid has sharp edges.
It is large — does not fit into many cabinets.
---
Conclusion: My Best Pick for General Purpose Deep Frying
There are many deep fryers available in the market – truly, there is one for you even if your needs are much different than for most.
But there has to be a winner. For the best deep fryer for home use, I recommend the T-Fal FR600D51 Odorless Stainless Steel Lean Deep Fryer. It features a sleek modern design that has excellent safety features and is easy to use.
Its 3.7 quarts of cooking oil capacity is more than enough for typical family use. It also produces consistent professional-quality, delicious, and mouth-watering deep-fried food.