Ready to cook now? The Sondiko Culinary Torch is, in my opinion, the best crème brûlée torch on the market
Whether you want to caramelize sugar in a sumptuous dessert or fire a cocktail flame, a kitchen torch is your goto tool. That goes double for crème brûlée, a delicacy that is characterized by the hardened caramelized sugar that covers its top.
To achieve perfect caramelization, it's vital to have a capable, high-quality torch at hand. With that in mind, this guide will go over five of the most notable kitchen torches on the market. Also, it will provide useful information about cooking torches in general in my buyer's guide.
Hopefully, all this will help you find the best creme crème brûlée for your particular needs.
Top Kitchen Torches Reviewed
The Best Crème Brûlée Torch - Buyer's Guide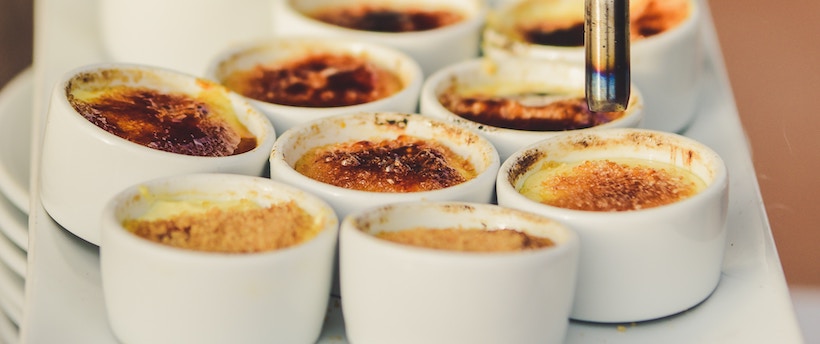 Cooking Torch Safety
Because it produces an open flame, a culinary torch is a hazardous tool if incorrectly used.
Since you're dealing with a tool that can set your kitchen on fire, there are specific cooking torch safety rules to follow. Here are the safety warnings to heed:
Flame Safety
Very often, a culinary torch's flame is not visible in bright light.
For that reason – even if you think it's off – do not point your torch at yourself or someone else. After using your torch, make sure it is off before putting it down or focusing or something else.
Fuel Safety
You should always use the branded refills with your kitchen torch. Take into account that some torches include a flexible screw that allows any size of canister to be attached to the torch. However, many only allow one size canister.
Additional Safety Considerations
Most culinary torches feature a safety lock.
If your torch has a lock, make sure it's engaged whenever the torch is not being used. You should always have a fire extinguisher close at hand when using a torch – and you should have one in your kitchen generally, as well.
Caring For Your Crème Brûlée Torch
To keep your creme brulee torch working well for a long time to come, you must take good care of it.
Mainly, that means keeping it clean. To achieve that, be sure to clean the flame pipe after every use. Use a damp cloth and gently wipe it down. After that, clean the nozzle using the same technique.
(Make sure that the device cools down before attempting to clean it.)
How to Choose the Right Creme Brulee Torch
The next time you are out looking for a crème brûlée torch, consider the following factors:
Design
Apart from looking good, a torch's design affects its functionality. In particular, it affects its ergonomics – how it feels in your hand. Before settling on a torch, make sure it is comfortable to handle, well-balanced, and effective.
Temperature
While a propane torch can reach around 3,600 degrees Fahrenheit, small kitchen torches don't need that temperature, so they generally use Butane instead. Be sure your kitchen torch can reach a temperature of 2,500 - 2,600 degrees Fahrenheit (Celsius).
If it falls short, you won't be able to caramelize sugar as well, and your creations will suffer due to an underpowered tool.
Adjustability
If you want to achieve a high level of detail, it's a good idea to look for a torch that has flame adjustments. Then you can turn up or down the fuel flow and achieve delicate work as well as more brute force flaming.
Safety Features
Cooking with open flames always represents a safety hazard. As such, torch cooking should be done with great care.
Without a doubt, it's beneficial to choose a culinary torch that has a safety lock. Preferably, this lock should be child-safe. Another helpful safety feature is a long anti-flare neck that allows torching at any angle without danger – it's best to avoid awkwardly tilting your arms.
Usability
Like all culinary tools, cooking torches should be practical, quick, and easy to use. Look for one that is ergonomic, lightweight, versatile, and dynamic. Make sure that its buttons or switches are easy to reach and activate using only one hand. Furthermore, make sure that the torch is easy to refill and clean.
Fuel Type
By and large, the two main types of fuel for culinary torches are propane and butane. Both of them are efficient and effective.
Some specialized torches use MAPP (methylacetylene-propadiene propane). This type of fuel produces a much hotter flame than propane or butane, making it more well-suited for specific culinary processes. However, this type of gas is a lot more expensive than the other two.
In general, smaller kitchen torches will use butane, or a mostly butane blend (depending on manufacturer). Butane can reach roughly 2,600 degrees Fahrenheit in open air, which is plenty for fine cooking or cheese melting.
The Best Kitchen Torch - Five Reviews
If you are looking for a culinary torch that is precise, powerful, and durable, take a look at the Butane Kitchen Torch by Messermeister.
Made of aluminum of the highest quality, the Messermeister is durable and resistant to minor drops and dings. Also, its advanced design makes it ergonomic, functional, and very user-friendly. Even more, the Messermeister Cheflamme Butane Culinary Kitchen Torch has precision features that make it perfect for creating small details.
Despite being relatively compact and lightweight, the Messermeister Cheflamme Butane Culinary Kitchen Torch is capable of holding 28 milliliters of fuel at any one time. That should provide more than 200 minutes of burning time. Considering that the device claims flames of up to 2800 degrees Fahrenheit, that amount of cooking time is undoubtedly a solid duration. And once you do run out of butane, it is remarkably easy to refill the tank.
Without a doubt, the Messermeister Cheflamme Butane Culinary Kitchen Torch is made for quick, efficient, and practical cooking. Its design favors usability above everything else. For one, its base makes it easy to set it down, and it achieves a good balance. Also, its ergonomic and well-balanced body allows for precise manipulation at all times. Even more than that, its anti-flare nozzle allows torching at angles to create small details and different finishes.
Pros:
Extended burning time on a single butane canister
The anti-flare system allows for manipulation at any angle
Easily adjustable flame
Childproof safety lock system
Self-igniting piezo ignition
Cons:
Some owners found the ignition unreliable
---
Those who are looking for a crème brûlée torch that offers precision and efficiency without breaking the bank should take a look at the Jo Chef Kitchen Torch.
Compact, lightweight, and easy to use, the Jo Chef represents a practical way to produce beautiful and delicious finishes on your desserts. More than that, it allows creative chefs and casual cooks to quickly create the type of small details that can truly set a dessert apart. Versatile and affordable, this torch can be used in a variety of settings ranging from home use to professional dessert making.
To produce enough heat to caramelize sugar effectively, this torch features an adjustable flame that is remarkably focused and precise. The Jo Chef claims a flame temperature of 2500 degrees Fahrenheit. This is a little lower than comparable devices on this list and might make crème brûlée a bit harder. At any rate, though, users found that the Jo Chef produces good results.
Compact and precise, the Jo Chef Kitchen Torch can be used to create unique designs on a crème brûlée's crust. Even more, the torch is accurate and focused enough to be used for welding small plastics, process jewelry, and other non-culinary DIY projects around the house. However, its design and construction make it (of course) most useful for kitchen use.
Effective and efficient, this cooking torch can be used in professional settings with great success. At the same time, though, it is practical enough to be used casually at home as well. The fact that it includes a heat-resistant place-mat and a cooking eBook only adds to its family-use suitability.
Pros:
Compact and lightweight
Very precise
Includes heat resistant placemat
Includes recipe e-book
Cons:
Does not reach temperatures above 2500 degrees Fahrenheit
Plastic parts, which are often less durable than metal
---
Featuring a simple, straightforward, and practical design, the Iwatani International CB-TC-PRO 2 is an excellent solution for on-demand culinary torch action. Featuring three-part construction, the torch favors usability over complexity.
Apart from making it functional and convenient, its bare-bones design promotes cleaning and refilling ease. Its nozzle and ignition piece can be used with a variety of fuel canisters as long as they fit the general intake.
The Iwatani International CB-TC-PRO 2 is mostly made of high-quality, heat-resistant plastic. However, its anti-flare nozzle is made of pure aluminum, resulting in an increased capability of continuous use and resistance to overheating. Fully adjustable, the flame can be brought up to a maximum of 2700 degrees Fahrenheit, resulting in enough heat to quickly and efficiently caramelize the sugary crust of a creme brulee.
In terms of design, the Iwatani International CB-TC-PRO has two different sides.
On the one hand, its heat is accurate, functional, and reliable. Capable of producing a focused, precise flame, it can help you create intricate details safely and securely. On the other hand, however, its body is not the most ergonomic, possibly resulting in some difficulty handling the device. The fact that you are required to hold the product by the naked canister is certainly not optimal. However, this design does help make the refilling and cleaning processes a lot simpler than they would be with a more complex torch body.
Pros:
Easy to use
Simple and practical design
Easy to refill
Easy to clean
Cons:
Users found it not as ergonomic as other designs
Relies on canister for grip
---
Despite being remarkably compact and lightweight, the Sondiko Culinary Torch is capable of producing a very reasonable amount of heat. Its flame is very focused, resulting in high precision and accuracy. Its ergonomic design and comfortable grip go a long way when it comes to facilitating functionality. Also, due to its straightforward controls, the product is straightforward to operate.
Made of high-quality aluminum, the Sondiko Culinary Torch is notably durable and resistant to dings and bangs. Apart from making it resistant to impact, rust, and other external elements, this choice in material imbues the torch with extreme resistance to heat, allowing it to work continuously for prolonged periods. Even more, due to its Piezo technology, the product's ignition is instantaneous and very reliable. Unlike other portable cooking torches out there, the Sondiko Culinary Torch uses every bit of fuel before its ignition system stops working.
By and large, the Sondiko Culinary Torch has one of the most precise flame-adjust controls out there. It is capable of producing a flame at anywhere from 1500 to 2500 degrees Fahrenheit. The knob on its back makes it very quick and easy to choose a flame level, allowing to you make instant adjustments as you cook. Also, its long anti-flare nozzle will enable you to torch at any angle, a feature that can be incredibly useful when trying out different caramelizing or roasting techniques.
Pros:
Comfortable handle
Ergonomic design
Compact and portable
Precise flame adjustments
Cons:
It does not reach temperatures above 2500 degrees Fahrenheit
---
Featuring a sleek, elegant, and ergonomic design, the EurKitchen Butane Culinary Kitchen Torch certainly stands out visually. Its benefits are not limited to aesthetics, however, as the device is also remarkably easy to operate. Even more than that, its design allows for a variety of different uses, including performing sophisticated culinary techniques that require high precision and accuracy. Additionally, to enhance safety, this cooking torch includes a finger safety guard that protects you from burns and extreme heat.
Portable, lightweight, and easy to use, the EurKitchen Butane Culinary Kitchen Torch is undoubtedly well-suited for casual dessert-making. At the same time, however, it exhibits a level of quality and efficiency that makes it a good option for professional kitchen work. At its highest setting, its flame reaches six inches in length, allowing for comfortable and capable handling. Consistent and reliable, said flame could be quickly and easily regulated while active. Without a doubt, this feature improves the torch's usability.
By most accounts, one of the best features that the EurKitchen Butane Culinary Kitchen Torch has to offer is its easy refill. Using the universal refill tip included with the product, you can quickly and easily refill the canister using any brand of butane you see fit. This can be hugely advantageous when time is of the essence.
Pros:
Includes finger guard for added safety
Easy butane refill
Very consistent flame
Cons:
Ignition was not reliable for some owners
---
In Conclusion: My Pick for Best Kitchen Torch
With everything on the table (or in your hand), it's easy to see why these five kitchen torches are so well-liked among professional chefs and casual dessert-makers alike.
However, there is one among them that stands out. Ergonomic, easy to use, precise, and safe, the Sondiko Culinary Torch is, in my opinion, the best crème brûlée torch on the market. Expertly constructed and made with the best materials available, it's also remarkably durable and reliable.
At any rate, however, it's up to you to decide whether this or any other culinary torch is right for you. With any luck, the information provided in this article will help you make your final choice.