Headed out to the grill now? My top pick for best copper grill mat is the YRYM HT Nonstick Copper Grill Mat and Bake Mats.
Don't you hate it when you try to cook something on your grill… and more sticks to the grill than ends up on your plate?
Copper grill mats have you covered. They add a nonstick surface and a flat, evenly heated surface to your grill for your veggies, fish, and other tough-to-grill foods. They also contain the mess from traditional food such as chick, steak, and burgers.
In this post I'll roundup the best copper grill mats. Let's get cookin'.
Five Top Copper Grill Mats Reviewed
Copper Grill Mat Buyer's Guide
What is a Grill Mat?
Grill mats are thin and flexible heat-resistant sheets generally with nonstick properties or otherwise coated with a nonstick surface. Grill mats sit between the grates of a grill and your food, so your food never touches the grates and you also don't lose as much liquid into the grill itself.
A good grill mat is thin and transmits heat extremely well. With a copper grill mat, you can sometimes even get grill marks when using the mat under your food.
Further, since you now have a flat grilling surface (almost similar to a griddle), you can grill more items that are hard or impossible to grill directly on the grates. Small vegetables, thin fish, fruit, and anything else that you don't want touching your grates directly is now doable.
How do copper grill mats work?
Grill mats give you a flat surface that you put directly on top of a warm to medium heat grill (manufacturers will list the maximum temperature).
Not all grill mats are copper, but copper has excellent properties that make it great for grilling. Just like copper is great for moving electricity, it also conducts heat very well. A good copper grill mat will spread meat evenly across the mat and allow you to cook foods you can't normally cook on a grill.
Should I get a copper grill mat or a different type of grill mat?
Copper is an excellent heat conductor and does a good job spreading it evenly. Usually copper grill mats can withstand up to 400 or even 500 degrees Fahrenheit with their nonstick coatings.
If you have a black mat perhaps made of fiberglass or silicone, it might withstand a bit higher heat – but also cook a bit less evenly. PTFE is also usually a better nonstick surface than others, so a copper grill mat is a bit easier to clean.
Still, let your grilling style be your guide. I suggest a copper grill mat for lower temperatures and other grill mat if you crank the heat some.
We have a roundup of best grill mats which also includes a few fiberglass grill mats. Check it out after.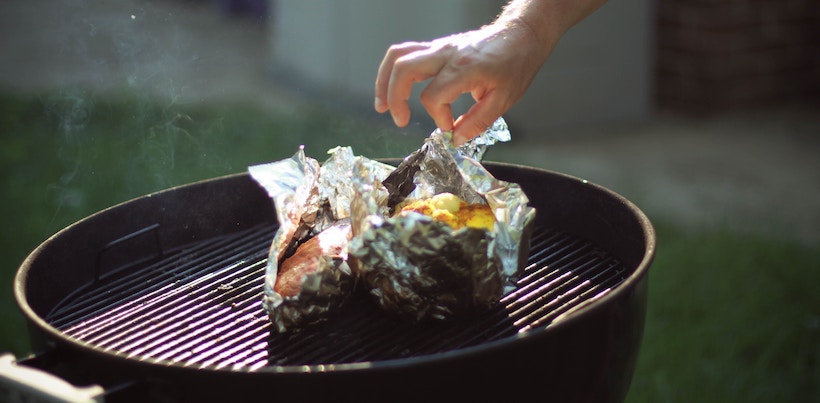 Will you get grill marks?
I can't promise grill marks with every food, but for the most part yes you can get grill marks with a copper grill mat. Enough that it's worth a try with your normal grilling foods – I know caramelizing your meat and veggies definitely is part of the allure of grilling.
Mainly, what's in your food is going to determine if it'll get grill marks. Since you aren't losing as much fat into the grill, sometimes fattier meats will fry more than they grill. So, especially if you grill things like fattier burgers they might fry instead of getting grill marks.
But... I can only suggest you try it. Often you can get good results even with fattier meats.
Features to look for in copper grill mats
There are a few features that differentiate copper grill mats, mostly related to their construction. Let's look at how size and shape, thickness, and surface construction affect your grill mat and its cleaning.
Size and Shape
In general, you should aim to get the biggest grill mat you can find that fits your grill. I listed the sizes of the various mats below.
Note that you can cut grill mats. For example, you are fine to buy a grill mat and cut a circle to fit it on your round charcoal grill. This also lets you cut odd shapes such as a strip for your warming tray.
Thickness
Thicker isn't necessarily better here.
While it's true that a larger gauge of copper will usually last longer, you get better heat transmission with thinner mats. Also, with less copper mass to heat a thinner grill mat will heat up and cool down at a faster rate.
Surface and Temperature
Copper grill mats (almost always) come with a nonstick surface. Different manufactures use different nonstick surfaces and usually get to nonstick with PTFE blends. Keep that in mind when cleaning - try not to use anything abrasive on the mats like steel wool or you can ruin the nonstick coating.
PTFE (the main chemical in Teflon) is recognized as safe – as long as you keep it at a low enough temperature. It's possible to heat PTFE to the point where it releases gas and can cause flu-like symptoms. This is called "Polymer Fume Fever".
(Birds are extra sensitive to these fumes. Please keep that in mind if you are cooking near wild or pet birds.)
Manufacturers will state the maximum temperature for your mat, and you should never let them touch flames directly. Usually copper grill mats can withstand a maximum temperature of 400 - 500 degrees Fahrenheit.
Cleaning
Copper grill mats help you in two ways:
They contain your food, so you keep your grill and grates cleaner
Their nonstick surface is easy to clean when you're done grilling
Generally, you can clean a (cooled) mat using a wipe under warm water. You can then hit them with soap and a soft cloth or rag. You usually don't have to scrub, especially if you are keeping the heat at a reasonable level.
Some manufacturers also claim mats are dishwasher safe. I haven't tried a copper mat in a dishwasher, but listen to the manufacturer of the mat you choose.
Best Copper Grill Mats Reviews
GrillShield's Extra Large Copper Grill Mats are a package of 2 very large – 17" x 23" – copper grill mats of high quality. They have a PTFE based, PFOA-free nonstick surface rated to 500 degrees Fahrenheit.
These mats have a thickness of .2mm, which is very thin and gives you a good chance to get grill marks. The thinner material means it is easier to cut too, which is important as these are big mats and you may want them to fit smaller trays and grills.
GrillShield also recommends them for nonstick baking (just keep an eye on the temperature). They are also listed as dishwasher safe – but be careful about abrasive cleaners or nearby items scratching the pads.
Pros:
Very big grill pads which should fit even the largest grills
Contains mess well to protect ovens and grills
Users loved them for baking as well as grilling
Heat very evenly so food cooks on all sides
Cons:
Some users found they scorch easily or flare up
A few owners found them hard to clean
---
Alto Fresh's Premium Large Copper and Grill Mats are a package of 4 15.75" x 13" copper grill and bake mats. They use multiple layers of PTFE based non-PFOA nonstick surface and are manufacturer recommended up to 500 degrees Fahrenheit.
They come in a thin .2mm thickness, which means they heat and cool quickly and you have a better chance to get grill marks on your food. It also means they are easier to cut if you use them to line pans or on circular grills.
The mats come with a bonus oil brush, which is useful to coat the copper surface or your food with sauce, oil, or marinade. Alto Fresh suggests cleaning them in warm water and soap.
Pros:
Good value for money and come with 4 mats and a grill brush
The nonstick surface performed well for food like chicken and veggies
The mats contain mess well and make grilling cleanup easy
Cons:
Some users had permanent grill marks on the pads even from lower temperature grilling
They can blow away or move because they are non-stick and don't weigh much
---
YRYM HT's Nonstick Copper Grill and Bake Mats are a set of 5 copper grill and bake mats which come with a bonus 2 silicone brushes, good to brush oil, marinade, or sauce on your mats or food.
They have a PTFE-Fiberglass Nonstick surface which the manufacturer says can handle up to 500 degrees Fahrenheit. YRYM HT does suggest you keep it between 300 - 400 maximum though and 7 inches from flame. They also suggest using wooden or plastic utensils which helps you not scratch the nonstick surface. YRYM HT says they are dishwasher safe or you can clean them with soap and water.
These mats are slightly thicker than other options at .25mm, and come in 13" x 15" size. Thinner mats transfer heat better and are easier to get grill marks and cut. These mats are slightly harder than other options, but more durable because of size and many users still get grill marks.
Pros:
Most users found it simplifies cleaning a ton and keeps food contained
Users could get grill marks often, even with the thicker sheets – this means they are more durable but still could cook food in a similar way to other mats
They make it easy to grill things that would stick to grates or flake off such as soft fish
Cons:
For some users, fluid and grease would run off and cause flare ups (often when picking up the mat after grilling)
Contrary to the pros, some users didn't get grill marks on some fattier foods which fried more than cooked
Some owners found them hard to clean
---
SKL's BBQ Grill Mat set is a package of 5 heavy duty 13" x 15.75" copper grill pads which come with a bonus silicone brush. SKL uses a PTFE based nonstick surface and claim it doesn't include any PFOA. It is reported safe up to a maximum of 500 degrees Fahrenheit.
These copper grill pads are .2mm thick, which is tied for thinnest in our review. Thin pads are slightly less durable but make it easier to transfer grill marks to your food or cut down to size.
SKL says they are dishwasher safe, or you can clean them with soap and water.
Pros:
Users found them very easy to clean which saves time after eating
Steaks and burgers taste very good when cooked on the SKL mats
Cons:
Depending on what you cook (and temperature) they could be a bit hard to clean
One user reported that food was good but lost some of the direct grill smoky taste
---
Aurora Gadgets's BBQ Copper grill mats are a set of 3 extra large 23.5" x 15.8" copper grill mats and a bonus silicone baster brush. Aurora Gadgets applies a PFOA free nonstick surface with a maximum heat of 500 degrees Fahrenheit.
Aurora Gadgets also recommends these grill mats for baking, as long as you don't exceed the temperatures. They claim they can either be cleaned with soap and water or in a dishwasher.
Pros:
Extra large copper grill mats to fit even larger grills or baking sheets
Users found they could get grill marks easily with most foods
Excellent for veggies and fish, which can be hard or impossible directly on a grill
Save the grill from cleanup
Cons:
One user had an issue with the mats getting uncleanable grill marks
Another user found the grill mat bent and creased while storing it
---
My Choice for Best Copper Grill Mat
Copper grill mats are a good addition to your cooking tools. You'll be able to grill even "impossible" foods like small veggies, soft fish, and even cheese!
My pick for best copper grill mat is the YRYM HT Nonstick Copper Grill Mat and Bake Mats. Coming in a set of 5 with bonus silicone brushes, they are a bit thicker than the competition which means they should hold up better.