In a hurry? My pick for best copper cookware is the Bulbhead 10-piece set. 
Cookware needs to be durable, tolerant to high temperatures, and easy to clean. 
What's the ideal material to meet these conditions? Copper!
Copper ticks many of the right boxes for both the expert and beginner, but the sheer number of products in the market makes you wonder what the best copper cookware products are.
In this post, I'll cover the reasons for my choices, and a guide to copper cookware. Let's conduct this roundup!
Top Copper Cookware Sets Reviewed Today
What to Consider When Buying Copper Cookware
When checking out the market, you're going to have a lot of specifications thrown at you. I find these five dimensions are the most important:
Cost
Quality
Heat conductivity
Maintenance levels
Materials
Cost
I strongly recommend that you first set a budget – and stay within it.
Otherwise – especially with cookware – you could be in over your head before you know it. You may have to justify to your loved ones why you spent $200 on a pot that you already own in a different material!
When setting a budget, though, don't sacrifice cost for quality. Copper products are a bit pricey vs. alternatives, but it's better to buy expensive once than to buy cheap twice — don't be penny wise and pound foolish.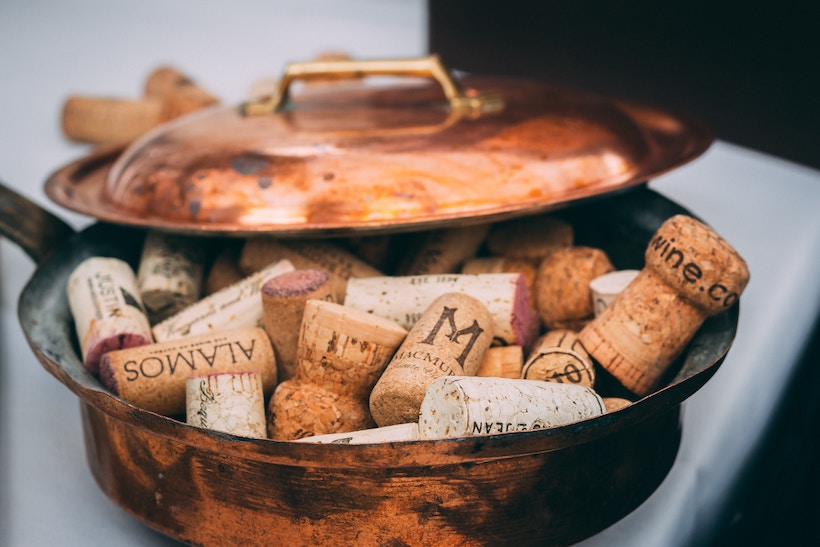 Heat Conductivity
Some metals are better heat conductors than others. Copper, for example, is a particularly good conductor of heat, whereas stainless steel isn't as good. In terms of cookware, what this means is: the better the heat conductivity, and the more evenly your food will cook.
Unfortunately, this also means that the handles of your copper cookware might heat up quickly, so you'll need some protection in handling the cookware if it's a solid piece. Some sets marry dissimilar materials to protect your hands when handling copper cookware.
With that in mind, strongly consider cookware that has stay-cool handles. While the rest of the pot or pan may be hot, you won't have problems lifting the lids and handling the cookware with bare hands.
Maintenance
If you'd rather not have to shine your cookware every night just to keep it looking good (haha), consider the amount of maintenance needed to keep your cookware in tip-top shape.
It's more straightforward to clean and maintain smooth-surfaced copper cookware as opposed to hammered copper cookware.
Material
Here are the main variations of copper cookware materials you will come across:
Bare
Tin lined
Stainless steel lined
Ceramic coated
Let's talk about each in turn.
Bare
Bare copper cookware is the cheapest since the copper hasn't been modified much. For most cooking tasks, it's probably the least desirable option.
Even though copper is a good conductor, in its bare, uncoated form, copper may react with acidic food such as tomatoes and dishes containing vinegar. If large quantities of copper are ingested, it can pose health risks.
Tin Lined
Tin coats on copper cookware don't interfere with the heat-conducting properties of copper. They do, however, reduce the interaction of acids with the copper and make your cookware safer to use.
Tin is naturally very smooth, making it a good option for creating non-stick copper cookware. As you know, non-stick cookware is much easier to clean and maintain.
Stainless Steel Lined
Stainless steel lined cookware is very popular in modern copper cookware since stainless steel doesn't rust. This makes it a good option for making copper cookware more durable. It also has the quality of not attracting permanent stains.
Copper cookware coated with this material will retain its new look for a long time, as long as your cookware is properly maintained.
Ceramic-Coated
Ceramics are another great choice for non-stick cookware. Of all the options for coating copper cookware, they're also the most aesthetically appealing, in my opinion.
A major plus point is that ceramics are eco-friendly and won't leach chemicals or react in a significant way with your food. Ceramic is good for plates, and it can also be good in your cookware.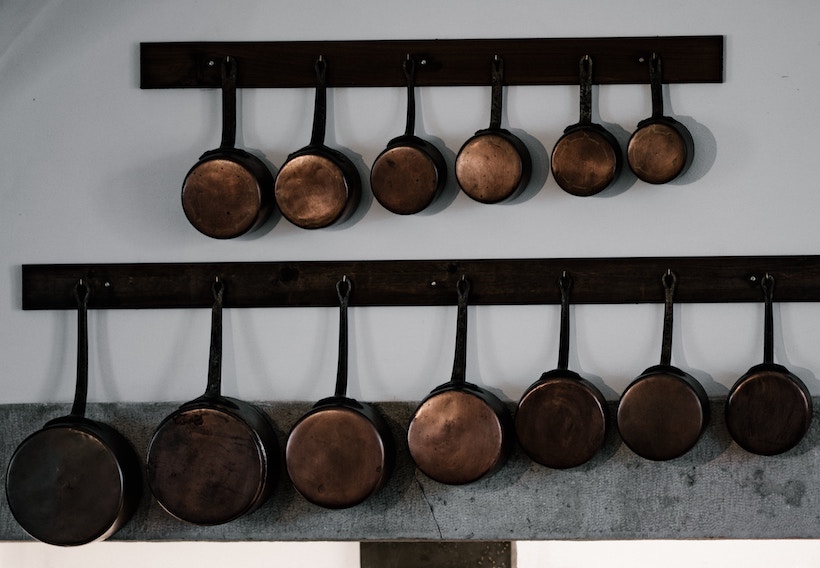 Benefits of Copper
Copper is more of a niche choice for cookware; it's true. However, copper brings a lot to the table that other cookware can't quite match.
The main benefits of using copper cooking products are:
It's a great heat conductor
It has good aesthetics
Copper has a good weight, increasing control
It's corrosion-resistant
Heat Conductor
Copper is a good heat conductor allowing for even heating of the cookware. This is very important in avoiding hotspots on your pots and pans and is especially helpful for browning foods.
Aesthetic Value
The beauty of a shiny copper pan can't be denied. If you've ever seen beautiful pictures of kitchens in home decorating magazines, the cookware pictured in the pot racks is often copper.
When you think copper, you probably think "dirty pennies". However, this aesthetic benefit is due to the visually appealing richness of copper.
Excellent Control
Copper has a solid, significant feeling weight and makes it feel more in control in your hand. Compared to cookware made of aluminum, you'll be more confident at the stove and oven with copper cookware.
Corrosion Resistant
Copper is an excellent adhesive material under other materials, as discussed just above. It also is very good at reducing corrosion as long as you maintain your pots and pans.
How to Care for Copper Cookware
Try these tips to ensure your copper cookware lasts as long as possible:
Wash With Soap and Water
Regardless of the coating material on your copper, use a soft sponge with a mild dish soap in warm water to wash your cookware and keep it protected.
After washing, make sure you store your copper cookware in a low humidity area to avoid tarnishing.
Polish
Copper has a natural tendency to tarnish over time, especially if not well-maintained. Polishing keeps it fresh and new.
A homemade mix of vinegar, salt, lemon juice, and baking soda (or lemon and salt) will serve perfectly.
After applying the mixture to the surface of your copper cookware, rinse and dry with a soft rag.
Avoid Heating a Dry Pan
This is good advice for copper and most other cookware material.
When heated without food or oil, there's a high risk that a copper lining might start to degrade due to thermal fatigue. To counter this, always ensure there's something in your cookware before heating it.
Also, avoid heating tin-lined copper pots over a hot flame without food. Tin melts at around 450 degrees Fahrenheit, a temperature easily reached at home. Doing this will result in the lining melting, and significant amounts of copper – maybe enough to be toxic – might leach into your food.
Repair Damage Promptly
In the event of damage, act promptly to have it fixed. For tinned cookware, the solution is often simple: re-tin it.
Reviews of the 9 Top Copper Cookware Sets
The entire Bulbhead Red Copper set is made with a tough-grade, copper-infused bonded ceramic cover, and includes:
8-inch fry pan
10-inch fry pan w/glass lid
1.5-quart saucepot w/glass lid
2.5-quart saucepot w/glass lid
6-quart saucepot w/glass lid
Aluminum steamer insert
The cool thing about this set is that the varying pots and pans and sizes allow you to cook a wide range of foods and styles, such as:
Pancakes
Stews
Soups
Flambé
Sauté
You can expect even heat distribution for a well-cooked meal thanks to the copper and ceramic-blended coating over the aluminum sheet. Being non-stick means you won't need to lubricate the pots and pans before cooking.
The smooth surface of the set is perfluorochemicals (PFCs), lead, and cadmium-free, which makes it an excellent choice for healthy cooking.
This cookware is designed to be oven safe up to as high as 500 degrees Fahrenheit and is suitable for all stovetops, including induction stoves.
Even though cleaning and maintaining some copper cookware can be a challenge, this set isn't too bad. The ceramic coat ensures that grease and oil will easily wash away.
Pros:
Non-stick surface.
Dishwasher-safe.
It can be used on induction stoves.
Great for a wide range of recipes due to the different sizes.
Non-toxic — PFCs, lead, and cadmium-free.
Cons:
Higher price compared to competitors.
---
The T-fal C836SD Copper Bottom Cookware set includes:
8-inch fry pan
10.5-inch fry pan
12-inch fry pan w/lid
5-quart stew pot w/lid
3-quart saucepan w/lid
2-quart saucepan w/lid
1-quart saucepan w/lid
One stainless-steel steamer basket
This lower-budget 13 piece copper cookware is a good value for the money. The wide range of different pot styles and sizes makes it excellent for a variety of dishes.
Exception for the steam basket, every piece has a body made from thick-gauge aluminum core between a couple of stainless steel layers. It has five beautiful copper lines that radiate from the bottom and add to its beauty.
Its unique combination of copper and other metals gives it a special set of traits — the copper and aluminum levels conduct heat evenly and quickly. At the same time, the stainless steel layer makes it very durable.
Pros:
Varying sizes to accommodate different meals.
Suits novices and pros.
No chemical coatings.
Strong and durable.
Heats up quickly and evenly.
Cons:
Users mention that the copper can discolor and wear away.
---
The Michelangelo 12-Piece Copper Cookware set includes:
8-inch skillet
10-inch covered skillet
8-quart covered stockpot
1.5-quart covered saucepan
3-quart covered saucepan
3.5-quart covered sauté pan w/helper handle
8-inch steamer insert
One of the top features of this 12-piece superior ceramic and titanium interior copper set is the ultra non-stick and scratch resistance. This feature makes it very durable and enhances its cooking performance. Expect everything to slide off the genuinely non-stick surface.
It's ideal for cooking with minimum oil or butter over a low-to-medium heat — it makes a great healthy meal!
Maintaining this set is simple thanks to the ceramic coating. It's also dishwasher-safe, even though I recommend you hand-wash it, so it lasts longer.
The non-stick set is made of professional-grade aluminum alloy and will conduct heat evenly and quickly without hot spots. This also means you won't get any chipping, peeling, or flaking, making it suitable for consistent and professional use.
The skillet, saucepot, sauté pan, and stockpot all come with glass lids. The lids seal in the nutrients and flavor to create healthier and tastier meals. They also bear ergonomic handles that are comfortable to grip and remain cool on the stovetops.
The set is perfluorochemicals (PFCs), lead, and cadmium-free, and the flat bottom build allows it to rest over the heat source evenly.
Pros:
Convenient, see-through flavor-lock lid.
Cool, grip-sturdy handles.
Scratch-resistant, ultra-ceramic coating.
Quick and even heating.
Non-toxic — (PFCs), lead, and cadmium-free.
Cons:
Users comment that their stock pans didn't work with induction tops.
---
The Calphalon T10 set includes:
8-inch omelet pan
10-inch omelet pan
1.5-quart covered saucepan
2.5-quart covered saucepan
3-quart covered sauté pan
6-quart covered stockpot
This cookware set is made with a tri-ply layer whereby the inner aluminum core is sandwiched between a copper layer and 18/10 stainless steel. This metal combination and arrangement guarantee amazing heat conductivity without any hot spots.
The brushed copper exterior gives it an attractive look that makes it match well with most kitchen decor – and ensures it's easy to clean.
It has a highly polished and reflective cooking surface made from non-reactive heavy-duty steel. This health benefit also implies it won't corrode or scratch, and there isn't as much risk of copper leaching into a dish.
The set includes four perfectly fitting stainless steel lids that keep moisture and heat inside while cooking. Each of the lids come with stainless steel handles that remain cool during food preparation.
The pots and pans also bear ergonomically designed stainless steel handles. These are easy to grip and comfortable to hold for long periods. On top of this, the flared-rim design creates sturdiness while not being too heavy.
Pros:
Oven-safe.
Beautiful design, including brushed stainless interior and copper exterior.
Tight-fitting stainless steel lids.
Stay-cool handles.
Flared-rim pans for increased safety.
Hard-wearing stainless steel interior.
Cons:
Not dishwasher safe
Lids aren't transparent.
---
The Mauviel M'Heritage set includes:
1.9-quart saucepan w/lid
2.7-quart saucepan w/lid
3.2-quart sauté pan
5oz bonus copperbrill copper cleaner
6.4-quart stock pot w/lid
10.2-inch skillet
With this Mauviel set, no matter what types of dishes you prepare, you will have the right utensils.
The pans and pots in the set are made of copper with a durable stainless steel lining. At 90 percent copper and 10 percent steel, you get the perfect balance of copper heat conductivity and stainless steel durability. The pots and pans from Mauviel hold up to years of intensive use.
The cooking surfaces will heat up quickly and uniformly and will prevent hot spots. Even though it has a non-stick lining, it fares well at preventing food from sticking to the surface.
A wide variety of meals can be cooked due to the sauté pan, saucepan, and skillet. These, as well as all the pieces, are constructed in a classic French style with polished copper finishes and beautiful bronze handles.
This product doesn't have a lot of downsides, especially concerning its efficiency. However, it is indeed more expensive than most of the other sets in this roundup. I'd say, however, it's worth the investment and will always be a great addition to your kitchen.
Pros:
Elegant design.
Copper lids.
Heats up quickly and evenly.
Four saucepan sizes.
Durable and comes with a lifetime warranty.
Cons:
Pricey.
Users say bronze handles will heat up very fast.
---
The Martellata set includes:
8-inch skillet
10-inch skillet
2-quart saucepan w/lid
3-quart saucepan w/lid
3-quart deep sauté pan w/lid
6-quart stockpot w/lid
The tri-ply stainless construction of the pans features an aluminum core sandwiched between two layers of stainless steel that provides even heat throughout the surface.
I like how aesthetically pleasing this range is, which I know is something you folks will like, too. The exterior bears a beautiful hammered finish, which makes it elegant from the wall to the stovetop to the table.
The construction with high-grade stainless steel ensures that food purity and flavors are maintained. Also, it comes with perfectly fitting stainless steel lids, which act well to seal and preserve moisture when cooking.
The sturdy stainless steel handles are fully cast and riveted to ensure durability. It's also a safe option thanks to the rolled edges on the pan — these make it easy to pour out liquids and avoid creating a mess.
Pros:
8/10 stainless steel interior.
Flared edges for dripless pouring.
Tri-ply construction.
Oven and broiler-safe cookware.
Stainless steel lids and cast stainless steel handles.
Cons:
Some users say that the 6-quart pot stains easily.
---
This Viking Culinary set includes:
8-inch frying pan
10-inch frying pan
8-quart stockpot w/glass lid
5.25-quart sauté pan w/glass lid
2.25-quart saucepan w/glass lid
3-quart saucepan w/glass lid
This copper cookware set combines an aluminum layer sandwiched between a heavy-gauge stainless steel interior and a copper exterior for better performance. The aluminum interior is responsible for providing the perfect heat transfer all through the pans, while the copper exterior heats evenly to produce an excellent temperature control.
They have vented glass lids that reduce the chances of boil-overs since you can see the progress of your meal without having to take the lids off.
The set comes with the signature Viking ergonomic handles, which remain cool, and finger guides and built-in heat breaks to allow easy lifting. In addition, the internal volume measurements are an excellent asset for accurate and easy measurement.
Pros:
Copper exterior with aluminum alloy core.
Oven-safe double-riveted stainless steel handles.
Compatible with most cooking surfaces.
Interior of 18/8 non-reactive surgical-grade stainless.
Easy-to-see internal volume markings.
Sturdy, well-designed ergonomic handles balance the pan and make lifting easy.
See-through vented tempered-glass lids.
Dishwasher-safe.
Cons:
Not great on induction cooking surfaces.
Pans aren't non-stick and may require lubricating with oil.
---
The Matfer Bourgeat set includes:
11-inch brazier w/lid
7.125-inch saucepan w/lid
9.5-inch casserole dish w/lid
9.5-inch flared sauté pan w/lid
This stainless steel copper cookware characteristically comes in a bit cheaper than its tin-lined copper cookware equivalent.
Most comparable sets aren't durable since their internal design may start to chip within a few months. But this cookware set was designed to last thanks to its stainless steel lining and its extra-riveted cast iron handles. It's great for heavy daily use, and with the right maintenance, it'll serve you for many years.
The blend of stainless steel, cast iron, and copper make maintenance of this set very easy. You'll be able to safely polish both the interior and exterior of this cookware with a plain soft cloth to produce an after-use shine.
Even though the set is easy to maintain, it's not dishwasher-safe, so you'll need to wash each piece in warm soapy water and hand-dry.
One crucial maintenance tip is to polish the set monthly with an approved copper polish — this is vital in preventing discoloration.
Pros:
Very easy to clean and maintain.
Lined with stainless steel.
Conducts heat well.
Constructed to be durable.
Easy-grip handles.
Beautiful design and color.
Cons:
Not dishwasher safe
Not meant to be used with an induction oven.
---
The HomeHero 13-Piece set includes:
8-inch skillet
10-inch covered skillet
8-quart covered stockpot
1.5-quart covered saucepan
3-quart covered saucepan
Three bonus pan protectors
Two cleaning sponges
Two pan scrapers
With 13 non-stick ceramic pieces, I consider this set an excellent value for the money. To start, the set features three bonus pan protectors, two cleaning sponges, and two pan scrapers.
If you need to cook on a variety of stove types, then this set may be a perfect choice, even if you use induction stovetops. It's oven-safe as well – except for the egg pan.
For healthy cooking, it's also in the running due to the ceramic coating and lack of cadmium, lead, and PFCs.
The Ti-Cerama ultra non-stick interior of the induction pans are custom-built for optimal, even heat transfer. It's straightforward to clean and maintain, and the copper and ceramic coating is more durable than conventional non-stick coatings.
The design is heavy-duty with a 2.8 mm-thick build, which won't warp, and the ergonomic handles are well-designed to remain cool.
Pros:
Easy to clean and maintain.
Varying sizes to accommodate different meal types.
Healthy — perfluorochemicals (PFCs), lead, and cadmium free.
Durable.
Heats up quickly and evenly.
Cons:
Extremely lightweight pans — move about easily on the stove according to customers.
Outside of the pans aren't very easy to clean according to some owners.
---
My Choice for the Best Copper Cookware
It was hard to pick the best out of these products, but I settled on the Bulbhead 10-piece set as my favorite copper cookware. 
The first box it ticked was durability — the tough-grade, copper-infused bonded ceramic makes sure of this. The ceramic coat also means it's easy to clean up and maintain. It's also non-stick, and you won't scratch the surface with hard brushes while cleaning.
Also, it's free from nasties such as PFCs, lead, and cadmium, making it an excellent choice for healthy cooking.