In a hurry? In my opinion, the Simply Calphalon Set is the best cookware for gas stoves
As you know, cooking on a gas stove isn't quite the same as cooking on electric. Gas stoves heat up quicker; however, the also heat isn't distributed as evenly.
Although you can use any type of cookware between the two, the discerning home chef knows specific cookware will perform superior to others on gas. Material is an important consideration here – this and construction are the key factors in heat distribution.
Below, I go through what you should consider to find the best cookware for gas stoves... without emptying your wallet.
Top Cookware for Gas Reviewed Today
What Makes a Gas Stove Different From an Electric?
The most significant difference between gas and electric stoves are heat sources. Gas – literally, ignited gas emitted in a burner – heats up much quicker than electric. However, since electricity has to travel through a complete electric element, electric stoves create a more even heat.
With glass-top electric stoves, it takes quite a while before the surface heats up after turning it on - both the element and the surface have to heat up before you can cook. With a bare electric burner, you save some time, but you don't have the same cleaning ability as on a glass range.
As you fire up your gas stove, the intensity you set it to will instantly produce heat, so you can begin cooking sooner. Well – pending your pan getting hot, anyway.
In saying that, most burners apply direct heat to only some of your cookware at one time. When using a large pan on a small burner, it can cause parts of the pan to be hot and others cold.
It's, therefore, essential to use the appropriate burner that suits the size of the cookware. Some gas stoves even have double burners that feature one large circle of flames with a smaller one in the middle.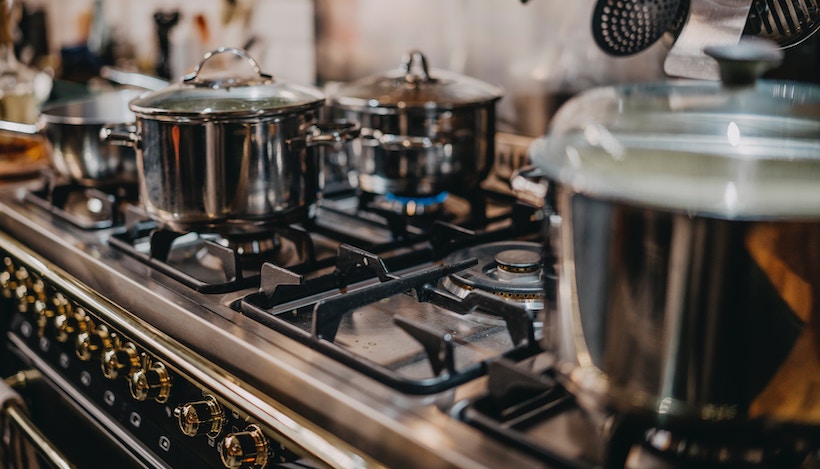 Properties of the Best Cookware for Gas Stoves
When looking for a new cookware set for your gas stove, these are the criteria I look for when deciding how the cookware will perform on gas:
Responsiveness.
Even heating.
Heavy-gauge materials.
Comfortable handle.
Non-stick properties.
Responsiveness
When cooking, it's vital to have cookware that responds to you and the heat source quickly. This trait is especially essential when cooking on direct heat, such as with gas.
For example, if you sauté onions and notice they're browning a little too quickly, you need the heat to come down. The pan or pot should react pronto, as you're turning down the heat to prevent the onions from burning.
Heats Evenly
Cooking with a pan that heats unevenly is no fun since it creates hot spots where food tends to burn easily. Furthermore, it might cause parts of meat to cook quicker than other parts — leading to over or undercooking.
Due to the condensed heating pattern of gas burners, it's essential to have cookware that heats evenly.
Furthermore, the sides of the pot or pan should also heat evenly for the best results. For example, a pan full of chicken breasts nestling up the sides will cook quicker with even heat from all sides.
Heavy-Gauge Materials
I try to always look for heavy-gauge materials in cookware simply because these give a better heat distribution. Thinner materials not only spread the heat unevenly, but they also hold it unevenly. Moreover, the bottoms are more likely to warp and dent — this can cause the food to scorch.
To determine the thickness of a pan or pot, you can first look at how heavy it is. Heavier pots generally mean a heavy-gauge. Furthermore, you can give cookware a tap with your knuckles — if you hear a light ping, it's probably thin; however, if you hear a thud, it's likely heavy.
When shopping online, you won't be able to perform the tap-test. Terms such as good "conductor" and "heavy gauge" will help guide you towards a good cooking material.
"Good conductor" means heat flows smoothly through the material and onto the surface. With thicker pans, there's a more significant distance between the source and the surface of the pan. Heat diffuses as it flows; therefore, the heat will have spread evenly by the time it reaches the pan surface.
Comfortable Handle
The handles of the cookware are crucial — when you're dealing with high temperatures, it's essential to have a secure grip. One thing to look for is how the handle or handles are attached to the cookware. There are three common ways manufacturers attach the handles:
All three methods have pros and cons—most depending on personal preferences.
Welded Handles
Many chefs advise against handles that are welded in place because these can break off. If you choose cookware with welded handles, make sure they're welded in several spots. When it's done correctly, it creates a seamless cooking surface.
Riveted Handles
Riveted handles are durable; however, they tend to collect crud, and in some cases, rust around the rivets. Furthermore, if they start to become loose, it can be challenging to tighten them again.
Screwed Handles
Screwed on handles are often seen on budget-cookware; however, it isn't necessarily a sign of bad quality. A plus for this type of handle is that you can quickly tighten it whenever needed.
Handle Material
When it comes to material, stainless steel is excellent on cookware handles for gas stoves. Stainless steel is a poor heat conductor; therefore, it will stay cool so you can avoid burns.
Other types of handles, such as plastic and wood, stay cool as well; however, these aren't ovenproof.
Non-Stick
Non-stick cookware is very popular among consumers as it makes both cooking and cleaning easier. There are different types of non-stick coatings, and it's crucial to choose carefully.
PFOA and PTFE
Some coatings contain harmful chemicals such as PFOA, which has proven to linger in the body for a long time if ingested.
PFOA is often associated with the popular PTFE coating, also known as Teflon. However, high-quality PTFE non-stick coating doesn't contain PFOA and is safe to use according to instructions.
PTFE coating will begin to degrade if it heats to around 500 degrees Fahrenheit, so it's generally recommended to only use medium heat with these types of non-stick pans.
Ceramic
Ceramic is a safer option than PTFE since it's made of inorganic materials, such as silicon and oxygen. Furthermore, it can be used at much higher temperatures.
However, a downside to ceramic coating is that it can easily lose its non-stick abilities over time if not cared for properly. Another risk with ceramic coating is lead and cadmium in the paint or glaze, especially for cheaper pans.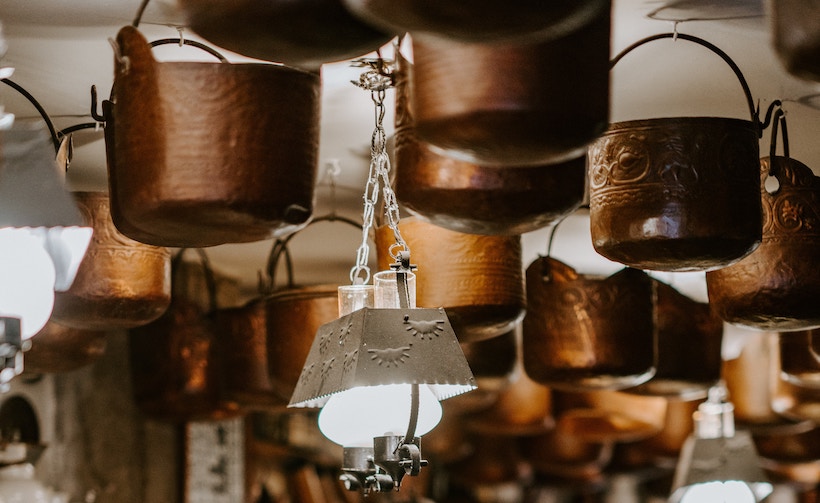 In Comparison: Raw Material Cookware
Before we fully get into the comparisons, it's important to note that most manufacturers combine materials to achieve the best results. Some materials aren't as good on their own and, therefore, require the strength or properties of mixed materials.
Copper
Copper is one of the best materials for gas stoves. It fits all of the criteria above as it heats quickly and evenly while also being highly responsive to any temperature changes.
However, copper cookware also comes with a significant drawback: its reactivity. When you're cooking with copper as a raw material, it reacts with the food — particularly acidic dishes such as tomato-based sauces. When this happens, it can modify the taste – or worse.
Too much copper can also have adverse health effects for you and your family. Ingesting copper in large amounts can lead to anemia and liver, kidney, and stomach problems.
What to Look For with Copper
Luckily, there are ways to get the benefits of copper cookware without the daunting health effects. A mix of copper and stainless steel is a match made in heaven — this gives you the even and quick heat of copper while staying safe due to the steel.
Stainless steel-clad copper cookware consists of a copper layer that's enclosed by an outer and inner stainless steel layer.
Aluminum
Aluminum is another excellent material for gas stoves. It's low-cost and heats quickly and evenly with a fast response to temperature changes.
However, as with copper, aluminum is reactive to certain foods when cooking. If ingested in large amounts, aluminum can affect bones, liver, heart, muscles, and the spleen.
The thin material can also warp when exposed to high heat, and it's prone to scratching.
What to Look For with Aluminum
If you're keen on getting aluminum cookware, look for stainless steel-clad aluminum. This combination creates easy-to-maintain cookware with excellent thermal properties.
Stainless Steel
Stainless steel, on its own, isn't a very good cookware material as it's slow to heat and provides an uneven cook. Furthermore, it reacts way too slowly to temperature changes.
In saying that, it does bring some pros to the table, such as being resistant to corrosion. It's also easy to clean.
What to Look For with Stainless Steel
Stainless steel is generally used as an inner and outer layer for other materials. However, if you're interested in stainless steel cookware, look for pots and pans with copper discs.
These are generally more budget-friendly compared to fully-clad copper but aren't as good. Even so, it's still an excellent choice when you want the excellent cooking abilities of copper but low-maintenance of stainless steel. 
Reviews of the Top 6 Cookware for Gas Stoves
In the Simple Calphalon Non-Stick Set, you get:
8-inch omelet pan
10-inch omelet pan
1-quart saucepan
2-quart saucepan
3-quart sauté pan
6-quart stockpot
This cookware set is an excellent choice for anyone who wants to upgrade their cooking skills. The pots and pans are made of hard-anodized aluminum that provides an even and quick cook. Additionally, the cookware is coated in a long-lasting non-stick coating that not only makes cooking easier but also makes clean-up a breeze.
The handles are made of silicone and provide a comfortable grip no matter how hot the cookware becomes. One slight downside to the handles is that they're riveted — it can cause a bit of crud to gather, which requires extra attention.
You can easily transfer your cooking from the stovetop to the oven, though — handles and lids are oven-safe in temperatures of up to 400 degrees Fahrenheit. Furthermore, the lids are made of tempered glass, which breaks into rounded pieces if broken.
Pros:
Two-layer non-stick interior.
Durable aluminum construction.
The interior won't react to foods.
Heat-resistant and oven-safe handles that are contoured for comfort.
Tempered glass lids are oven-safe.
Cons:
Users found that the sides and exterior bottom tend to stain easily.
The rivets might collect crud.
---
Here's what you'll get with the AmazonBasics 8-Piece Non-Stick set:
8-inch fry pan
10-inch fry pan
1.5-quart saucepan with lid
2-quart saucepan with lid
3-quart casserole pan with lid
Four-piece utensils set
If you're on a budget but want quality cookware, I recommend this set from AmazonBasics. It's made of aluminum with a non-stick coating that makes cooking and cleaning easy. Furthermore, you won't have to use excess butter or oil, so it's easier to make a lighter dish.
The soft-touch handles stay cool when on the hot stove — they're also comfortable to hold, even when the pot or pan gets heavy.
Additionally, the cookware is safe to use on gas stoves as well as electric stovetops (but not on induction stoves).
Finally, I like the small vents in the lids that allow a small amount of steam to escape while cooking.
Pros:
Budget-friendly but good quality.
Non-stick coating.
The spiral bottom creates an even cook.
Glass lid with vents
Comfortable and secure handles.
Cons:
Not oven or dishwasher-safe.
---
This BulbHead Red Copper set includes:
8-inch fry pan
10-inch fry pan with lid
1.5-quart saucepan with lid
2.5-quart saucepan with lid
6-quart saucepan with lid
Aluminum steamer insert
Nothing beats copper cookware on gas stoves. However, we'd like to avoid the health issues associated with copper – as mentioned above. Therefore, with this set, you can get the best of both worlds.
This ceramic cookware is infused with tough-grade copper, which provides optimal heat distribution. The non-stick coating provides for easy cooking and cooking. It's free of PFOAs and PTFE, which are common chemicals used in non-stick coatings.
Furthermore, the cookware is dishwasher safe; however, the manufacturer recommends hand-washing when possible.
You can easily transfer the pots and pans from the stovetop to the oven. Thanks to the metal handles, they're safe to use in temperatures of up to 500 degrees Fahrenheit. In saying that, the lids aren't oven-safe, so keep these on the stove.
Before using, the manufacturer recommends that you season the cookware according to the directions included. This will enhance the non-stick surface and allow you to use less oil.
Pros:
Safe non-stick coating.
Excellent heat distribution, retention, and responsiveness.
Easy to clean.
Safe in ovens up to 500 degrees Fahrenheit.
Cons:
Owners found the steamer basket to be less useful.
---
This T-Fal Ultimate set includes:
8-inch fry pan
10-inch fry pan
1-quart saucepan with lid
2-quart saucepan with lid
3-quart saucepan with lid
5-quart Dutch oven with lid
Solid spoon
Slotted spatula
The cookware is made out of hard-anodized aluminum with a reinforced titanium non-stick coating. This makes it resistant to scratches as well as corrosion. Moreover, it won't react to acidic foods such as tomato-based sauces and wines.
I like the Thermo Spot technology — it provides an even heat base that distributes the heat throughout the pans and pots. When the pans are fully heated, the ring around the Thermo Spot will turn red, indicating it's time to cook.
You can easily grab the handles while cooking due to the heat-resistant silicone material. They're also riveted securely in place and won't become wobbly over time. In addition to the handles, the tempered glass lids feature a small vent that allows a bit of steam to escape.
You can use the cookware on the stovetop or in the oven at temperatures of up to 400 degrees Fahrenheit without lids. With the lids, it's only safe in temperatures of up to 350 degrees Fahrenheit.
Cleaning is a breeze since the cookware is dishwasher-safe. Furthermore, it's free of PFOA, lead, and cadmium, and comes with a lifetime limited warranty.
Pros:
High quality — resistant to scratches and corrosion.
"Thermo Spot" for indicating ideal temperature.
Won't react to acidic foods.
Dishwasher safe.
Excellent heat retention and distribution.
Cons:
The copper bottom tends to discolor when exposed to high heat, users note.
---
Here's what's included in the Rachel Ray Cucina set:
1-quart saucepan with lid
3-quart saucepan with lid
6-quart stockpot with lid
8.5-inch skillet
10-inch skillet
3-quart sauté pan with lid
Slotted turner
Spoon
These pots and pans are made of lightweight aluminum with a sturdy and hard porcelain enamel exterior. The interior is an espresso-colored PFOA-free non-stick coating that provides an effortless cook and clean.
Rachael Ray is known for her colorful personality, and this line of cookware shows that off. The set is available in a range of rustic and modern colors that easily match any kitchen and style.
The handles are covered in silicone to provide a comfortable grip without the risk of accidental burns. Furthermore, they're dual-riveted, so they will stay in place without becoming wobbly.
The entire set is safe to use on gas and electric stoves. Additionally, you can safely use them in the oven at temperatures of up to 400 degrees Fahrenheit.
Pros:
Durable enamel exterior.
Excellent heat distribution.
Oven-safe.
Shatter-resistant glass lids.
Non-toxic non-stick coating.
Cons:
Bottom exterior is prone to discoloration, according to some owners.
---
Here's what you'll get with the Cuisinart Chef's Classic Stainless Cookware Set:
1-quart saucepan with lid
2-quart saucepan with lid
3-quart saucepan with lid
3-quart sauté pan with helper handle and lid
8-quart stockpot with lid
8-inch non-stick skillet
10-inch skillet with lid
7-inch steamer insert
This Cuisinart cookware set is made of aluminum with a stainless steel layer on the interior and exterior. The stainless steel provides a durable construction that's resistant to corrosion and damage, while aluminum offers excellent heat distribution.
All cookware in the set is very versatile and can be used on gas, electric, and glass stovetops. Furthermore, you can safely transfer the pots from the stovetop to the oven — they can withstand temperatures of up to 500 degrees Fahrenheit.
The contoured handles provide a comfortable grip and stay cool to prevent burns. The lids also feature large handles that are easy to grab when checking on the food.
To prevent your sauce from spilling and making a mess, the sides are tapered. Additionally, when it's time to clean up, simply place the cookware in the dishwasher and sit down and relax.
Pros:
Thick bottom provides an even cook.
Drip-free pouring.
Comfortable contoured handles.
Premium stainless steel construction.
Cons:
Some users have found that the bottom shows scratches.
---
My Choice for the Best Cookware for Gas Stoves
Cooking on gas stoves is undoubtedly different from electric — you're dealing with direct heat that requires specific materials to perform its best. In my search for the best cookware for gas stoves, I found first that the cookware has to be responsive to temperature changes.
Furthermore, a heavy material combination — such as stainless steel-clad aluminum — provides an optimal cooking surface.
With this in mind, in my opinion, the Simply Calphalon Set is the best cookware for gas stoves. It's durable– it's made from hard-anodized aluminum and has a non-stick interior that's PFOA-free. Although the handles are riveted, they're contoured with added silicone to provide a comfortable grip.