In a hurry? My pick for the best ceramic frying pan is the Eppmo Non-Stick Ceramic Frying Pan Set
Ceramic frying pans are among the top choices of many home cooks and chefs – and yours truly. They offer a long-lasting construction, even heat distribution, and optimal heat retention. The ceramic coating provides a non-stick surface that not only makes frying a breeze but also easy to clean.
Furthermore, the best ceramic frying pans offer a reasonably non-stick surface in a safer alternative to pans that can contain harmful chemicals such as PTFE and PFOA. These can cause several health issues that can range from mild to severe.
All in all? Ceramic pans are an excellent choice for your kitchen. Let's dive in and find the right ceramic frying pan for you!
Top Ceramic Frying Pans Reviewed
Ceramic Frying Pans in Detail
When talking about ceramic pans or cookware, most refer to ceramic-coated cookware, not pans entirely made of ceramic — so what's the difference?
Solid ceramic cookware is made of clay and water, then hardened in a kiln through multiple processes until it's hard enough for cooking duties.
Ceramic-coated cookware, on the other hand, is made primarily out of metal — usually aluminum, but sometimes stainless steel. After the metal has been molded, it's covered in a thinner coating of ceramic.
The non-stick coating on ceramic frying pans is generally made of inorganic minerals — mostly silicon and oxygen. Not only is this better for your health, but it's also more environmentally friendly.
Why Ceramic for Frying?
Whether you're frying an egg or searing a steak, there's a chance that what you're cooking might stick to the pan. Usually, that means you overcompensate by adding too much oil to the dish.
Non-stick pans are very popular because food slides off easily, and cleanup is a breeze. However, as I briefly mentioned above, traditional non-stick pans might contain chemicals such as PTFE and PFOA.
If the pan overheats, these chemicals can leach into the food or form fumes. If this is ingested or inhaled, it can lead to flu-like symptoms.
However, as I explained above, ceramic coatings are made of inorganic materials and don't contain any harmful chemicals.
Furthermore, ceramic pans have high heat-resistance and can sometimes withstand temperatures of up to 850 degrees Fahrenheit. In comparison to traditional coating coatings that begin to deteriorate at around 500 degrees Fahrenheit, you can cook a wider variety of dishes using different techniques with ceramic cookware.
You can also transfer the pan from the stovetop to the oven to finish off the meat or veggies you're cooking. Just double-check the instructions to ensure your pan is oven-safe – and at which temperature range.
Possible Downfalls of Ceramic Frying Pans
Although ceramic frying pans are free of PTFE and PFOA, that doesn't mean you do have cooking considerations. There are other concerns to be aware of:
Health Concerns
One major concern with ceramic cookware is the manufacturing process. Cheaper pans could contain different compounds such as lead or cadmium in the coating.
Lead is a concern in the United States and it's commonly found in groundwater in different states, and sometimes even in aging municipal water systems. Lead can cause many health issues, such as cardiovascular problems, decreased kidney function, and reproductive issues.
When you're cooking on a surface that contains lead, it can leach into the food. Cadmium exposure can also affect the lungs and kidneys, among other health problems.
One way to avoid these issues is by only buying from reputable companies.
Performance
Many cooks and chefs recommend ceramic frying pans; however, homeowners have an array of experiences.
While some swear by the ceramic non-stick coating, others claim that the non-stick properties didn't last long. Ceramic coatings also require special care (we'll get more into that in a minute).
However, the durability of the coating also depends on how many layers there are on the pan. Manufacturers generally apply one or two layers — three layers are reserved for more high-end cookware.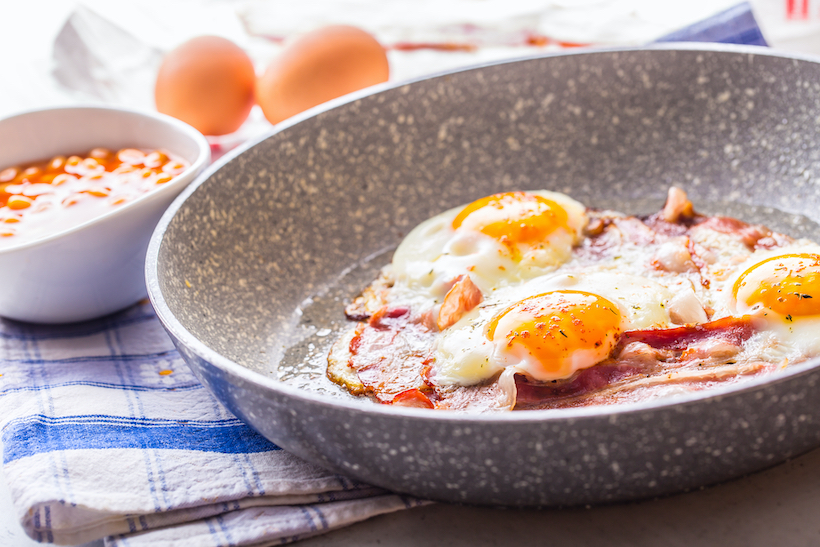 Cooking With Ceramics 101
To get the most out of your ceramic frying pan, there are a few things to be aware of:
Use medium heat: Although ceramic coated cookware is safe to use at scalding temperatures, it's best to keep your burner at around a medium. This will help preserve the non-stick properties as well as preserve the nutrition of the food.
Slow transitions: If you use high heat, apply it slowly. Don't crank the heat up from low to high — a sudden change in temperature could cause the coating to crack.
Use soft utensils: A ceramic coating is durable; however, it's best to use soft utensils when cooking. This means materials such as wood, plastic, nylon, and silicone.
Use butter or oil: Use a bit of butter or oil when you're cooking. Don't overdo it, though, you don't need to with the non-stick properties of ceramic.
Use olive oil and sprays sparingly: Olive oil and cooking sprays can build up on the non-stick surface, leaving a sticky carbonized residue.
Cleaning and Maintenance Tips
We all like the easy way out and dive straight for the dishwasher — come on... we all do it!
Here are a few maintenance tips to help preserve your ceramic frying pan:
Wash before use: Before using the pan for the first time, wash it using warm, soapy water. This will get rid of any leftover residues from the manufacturing process, or residue from handling or shipping.
Season: This might not be a requirement for all pans; however, many manufacturers recommend that you season a pan before use. This is quickly done using a bit of oil, and it will help to preserve the non-stick surface.
Slow transitions: After cooking with your pan, avoid washing it in cold water, as this might damage the non-stick coating. Instead, leave the pan to cool off for a couple of minutes before washing. You shouldn't take the pan out of the fridge and onto the hot stove, either.
Opt for handwashing: I know the dishwasher is quick and easy; however, the harsh detergents used can damage the non-stick coating. You can find dishwasher-safe pans, but most manufacturers recommend handwashing.
Avoid abrasive cleaners: This goes for soaps and tools — these can scratch or damage the coating.
Finding the Best Ceramic Pan for You
Finding the best ceramic pan requires more thought than simply picking the top-rated product. These are the factors I look for:
Size.
Material.
Quality.
Maintenance.
Size
Ceramic frying pans come in a variety of sizes to suit each cook and dish. Your choice of size primarily depends on how many people will eat the meal you're cooking!
I like to go big — I often opt for 12-inch pans. In saying that, anything above 10 inches is an excellent size for couples and small families. Furthermore, 10" still allows you to cook a variety of dishes, such as curries and stir-fries, that often require larger pans.
Another smart option is to buy sets. Most manufacturers sell pans in sets of two, three, or even four pieces. You'll get different sizes to suit the meal, whether you're cooking an egg or making marinara.
Material
Aside from the ceramic coating, it's essential to consider what's underneath – this is where the magic happens. The base is what sets a good frying pan apart from an excellent pan. Here are a few bases you might come across:
Aluminum: This is the most common metal used in ceramic cookware. It's lightweight, affordable and is an excellent heat conductor. However, aluminum can't be used on induction cookers.
Anodized aluminum: When a metal is anodized, it means it's undergone an electrochemical process that makes it durable and corrosion-resistant. Although this is more durable than regular aluminum, it still can't be used on induction cookers.
Aluminum and stainless steel: This means that aluminum has been strengthened with stainless steel to make it more durable. It further enhances heat distribution, as well as retention — plus, as a bonus, it makes the pan compatible with induction cookers.
Stainless steel: These are the strongest ceramic pans available. However, stainless steel is a poor heat conductor and can be susceptible to hot spots.
Because aluminum is excellent at heat distribution and retention, it makes a good frying pan. For more durability, opt for an anodized or hard-anodized aluminum pan.
Quality
The base has to be good at distributing heat, and the coat has to be durable.
When shopping online, it can be challenging to know the quality of cookware since you can't hold or feel it. However, I like to look at how well it manages high heat — pans that can withstand a higher temperature are generally made with several layers of coating.
Maintenance
If you do prefer to wash your cookware in the dishwasher, make sure you choose a dishwasher-safe pan.
Hand-washing your pan with is a good way to avoid harsh detergents and prolong its life.
Reviews of the 7 Best Ceramic Pans
These EPPMO frying pans feature an aluminum base that provides optimal heat distribution and retention. The ceramic coating is free of PFOAs and other harmful chemicals while providing a slick non-stick surface that's easy to clean.
The pans are safe to use in the oven as well as on any stovetop, including induction. They can withstand oven temperatures of up to 500 degrees Fahrenheit, enabling you to cook a variety of dishes. Additionally, the stainless steel handles provide a sturdy, yet comfortable, grip.
You get three pans in the set — 8, 10, and 12-inch — excellent for any situation. You also get glass lids to suit each pan size.
The pans are dishwasher-safe; however, the manufacturer recommends handwashing when possible.
Pros:
Three medium to large pans.
Toxin-free, non-stick coating.
Sturdy stainless steel handles.
Dishwasher-safe.
Cons:
Owners found that the handles get hot when cooking.
---
This 12-inch pan from TECHEF is made of thick aluminum construction with a fine ceramic non-stick coating. The double-riveted stainless steel handle is secure in place and remains cool to the touch.
The handle is ergonomically designed to make it more comfortable for you to work with when you're cooking. Additionally, the brushed finish adds a nice touch and texture.
It's safe to use in the oven at temperatures of up to 450 degrees Fahrenheit, as well as dishwasher-safe.
It offers excellent heat conduction that minimizes the chances of hot spots forming. Thanks to the non-stick coating, you can use less cooking fats for lighter meals.
The durable design makes the pan even more versatile as you can use it on any type of cooktop, including induction.
You also get a glass lid that features a stainless steel handle — the handle will get hot, though, so keep this in mind.
Pros:
Heavy-duty stainless steel construction.
Good heat conductor.
The 12-inch size makes it versatile.
Dishwasher-safe.
It has a brushed stainless steel handle.
Cons:
Users found it can take a while to heat.
---
This 9.5-inch Seekavan frying pan is made of die-cast aluminum that provides you with optimal heat retention and distribution. It consists of five layers on the bottom of the pan, which creates a thick surface to provide an even cook throughout.
The non-stick coating is made of stone-derived materials and is free of PFOAs. The handle is painted wood that provides a non-slip grip — it's riveted in place and won't cause the pan to wobble.
You can use this pan on most different cooktops, including induction. However, it isn't suitable for gas stoves or ovens.
Pros:
Users love the wooden handle that's comfortable to hold.
High-quality non-stick surface.
Lightweight.
Easy to clean.
Even heat distribution.
Cons:
Although users like the wooden handle, it limits the abilities of the pan. If you were to use it on gas, you run the risk of it scorching or burning — the same goes for the oven.
---
You get three pans with this set from Cooker King — 8, 10 and 12 inches — so you're able to cook a variety of dishes for the whole family.
The pans are made of durable aluminum with an anti-warp base to preserve the shape of the pan. This base provides an even heat distribution that's ideal for frying proteins, such as chicken breasts and fish.
You can use the pans on different types of stovetops, with the exterior being scratch-resistant, and they won't damage your glass stove.
You can safely transfer these pans from the stovetop to the oven as they can withstand temperatures up to 480 degrees Fahrenheit. Additionally, they're dishwasher-safe, so you can take a breather after cooking dinner.
The non-stick coating with these is free of chemicals such as PFOA, PTFE, and cadmium. It provides a slick surface that's as easy during cleanup as cooking.
You can get a secure and comfortable grip with the stainless steel handles, which are dual-riveted for extra strength and support as you're frying or searing.
Pros:
The aluminum base provides excellent heat distribution.
Anti-warp bottom.
Long-lasting ceramic non-stick coating.
Oven-safe at 480 degrees Fahrenheit.
Dishwasher-safe.
Cons:
Some users found the pans to be too thin.
---
These pans from GreenLife are constructed of aluminum and feature a Thermolon ceramic non-stick coating. The coating is free of impurities such as lead and cadmium, as well as PFAS and PFOA.
The pans feature a bright blue exterior while the inside remains white, making them visually highly appealing. More particularly, the bakelite handles are soft and provide a non-slip grip.
Note that these pans are safe to use in the oven at temperatures up to 350 degrees Fahrenheit. They work on all stovetops apart from induction. The manufacturer recommends using a low to medium heat and only nylon or wooden utensils, as well as no cooking sprays.
Take your pick from six vibrant colors that are long-lasting and won't discolor or stain when used correctly. They're also dishwasher-safe and easy to clean.
Pros:
Thermolon non-stick coating is safe to use and free of toxins.
Oven and dishwasher-safe.
Even heat distribution and superior heat retention.
Handles are soft and comfortable to hold.
Available in a range of bright colors.
Cons:
These pans require very specific care, which some owners found to be inconvenient.
---
This unique pan from Red Copper combines the superior heat distribution of copper and the non-stick properties of ceramic. The pan is resistant to high heat and can safely transition to ovens at 500 degrees Fahrenheit.
The non-stick coating is both resistant to scratches and high temperatures, as well as free of chemicals such as PFOA and PTFE. Furthermore, it won't peel, flake, or chip when cared for properly.
It isn't dishwasher-safe; however, it's easy to clean by hand with warm, soapy water — or simply wipe it with a paper towel. Additionally, it must be seasoned before use, according to the manufacturer's instructions. This will further help preserve its non-stick properties.
The pan features a stainless steel, dual-riveted handle that provides a secure yet comfortable grip. It won't overheat on the stove; however, be careful when removing it from the oven as the handle will be hot.
Pros:
Copper base — superior heat distribution and retention.
The ceramic coating is durable and resistant to high temperatures.
It can be used in the oven at high temperatures.
Non-stick for an easy clean.
Cons:
Seasoning the pan before use is crucial for the non-stick coating actually to be non-stick.
---
This Zwilling J.A. Henckels ceramic-coated frying pan is made of three-ply thick aluminum with an aluminum core. It conducts heat evenly and quickly as you're cooking, even on medium heat.
The non-stick ceramic coating is free of chemicals and won't release toxic fumes that can harm you and your family.
It features a large stainless steel handle that's designed to give you superior maneuverability. In addition, the handle stays cool to the touch when cooking on the stove.
Note that this pan is safe to use in the oven at temperatures up to 500 degrees Fahrenheit. It's also compatible with a range of cooktops, including gas, electric, and induction.
You can easily pour liquids from the pan without causing a mess, thanks to the flared rim. Additionally, it's dishwasher-safe for easy clean-ups after dinner.
Pros:
Large handle provides a secure grip.
Thick aluminum core for excellent heat distribution.
It can withstand high temperatures on the stovetop and oven.
Dishwasher-safe.
Cons:
Users found the non-stick properties to be less effective compared to other ceramic pans.
---
Easy Non-Stick Frying With Ceramic
Ceramic-coated frying pans offer a healthier option to non-stick pans by using inorganic materials instead of PTFE and PFOA. As a result, ceramic pans can withstand high temperatures that enable you to cook a variety of dishes compared to PTFE-pans.
From the above, my pick for the best ceramic frying pan is the Eppmo Non-Stick Ceramic Frying Pan Set. It ticks all of the boxes when it comes to excellent ceramic pans with its thick aluminum base and three-layer ceramic coating. Furthermore, it can withstand high heat and is safe to use in the oven. 
I'm really impressed with its build quality and the different sizes available — my favorite has to be the 12-inch pan!