In a rush? My pick for top carving knife is the Mercer Genesis Carving Knife.
Having a carving or slicing knife in your kitchen cutlery collection is not an absolute necessity. But when the holidays roll around, and huge roasted turkeys or whole hams are on the table, they are incredible to have on hand.
Longer, thinner knives than the typical Chef's knife are excellent for carving and serving those meat items. Unlike a Chef's knife, carving knives have a thin blade that is better for slicing thinner pieces of meat. They have pointed tips to maneuver and navigate bones and joints.
Let's talk carving knives!
Seven Top Carving Knives Reviewed
How to Choose the Best Carving Knife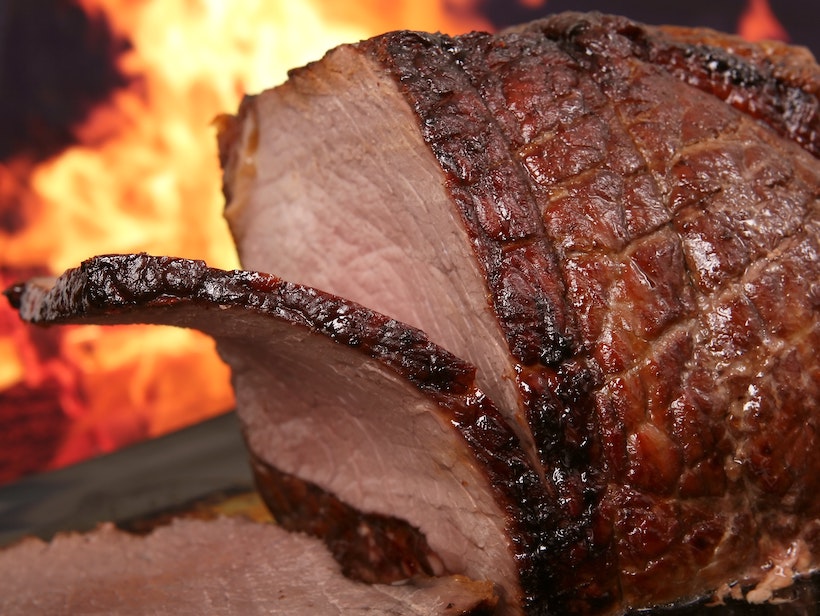 Good knives make all the difference in meal prep. I'll lay it out for you: choose carving knives made of high carbon steel. It keeps the edge and is easier to sharpen.
Consider the handle on the knife. If it is not comfortable in your hand, you are unlikely to use it.
Handle materials vary; some are composite plastic, some pakkawood, and some have no true handle. They have handles that are extensions of the hardened stainless steel used in the blade. Silicon handles are best when handling knives with greasy hands. But as always, you get what you pay for...
Here's a video discussing the carving knife:
What Are the Benefits and Advantages of Carving Knives
Carving knives are stronger, sharper, and last longer than slicing knives. The blades are also thinner and shorter.
The best way to explain the advantage of a carving knife is to tell you what I found when using a Chef's knife and a carving knife.
First, a Chef's knife has a larger surface area and a wide blade. Making contact with poultry or meat produces a drag that hampers slicing and reduces the ability to cut uniform, thin slices.
The sharp pointed tip of a carving knife helps to work around bones or get around and into joints as you carve. Sometimes, modern carving knives have indentations that also reduce resistance and make thinner slices easier to carve.
Attributes that Differentiate Carving Knives
Carving knives have thin, narrow blades and a pointed tip. The blades are narrower than a Chef's knife so that moving the blade back and forth has less resistance.
The spine on a carving knife is quite thick in comparison to a Chef's knife. To keep from sawing back and forth, the blade of a carving knife needs to be longer than whatever meat you are cutting (consider if you are cutting large turkeys, hams, or roasts). The length of a typical carving knife varies from eight to 14 inches.
The term carving knife is confusing since other knives seem to do a similar job. However, traditionally the function of a carving knife is to cut uniform slices of cooked poultry such as chicken and turkey, or to slice large roasts. They are also useful in filleting large fish.
The simplest way to envision a carving knife is to picture slicing a Sunday roast or carving a Thanksgiving turkey.
What is the Best Way to Use Carving Knives?
Be sure the carving knife is longer than the meat you intend to slice.
Remember, the knife has to be sharp. Sharp knives need not scare or intimate you. The sharper a carving knife is, the thinner the slices of meat. A sharper knife is also safer since there is less chance of the blade slipping and cutting you.
When slicing, use a carving fork to hold the meat to make it easier to hold the meat in place.
Long tines allow the fork to penetrate deeper into the meat to keep large pieces of meat stable as you carve. The knife needs to face away from you. When cutting large pieces of meat, start from the top middle and slice across for thin slices of meat.
The Shun Classic 8-Inch Carving Knife is very sharp and durable. Shun agrees; it comes with a lifetime warranty.
The Shun offers versatile dicing, chopping, and slicing capabilities. It is approximately 12 inches in length and two inches in width. The knife is dishwasher safe, but I always suggest you hand wash your knives, so they stay sharp longer.
People with arthritic hands would find the D-shaped handle comfortable to hold. The handle is made of fine pakkawood. It is NSF-certified, meaning the knife is suitable for commercial kitchens. Shun takes pride in the ability of the knives to slice and dice the ingredients used in cooking easily.
It cuts meat and has a handle that is a useful aid in culinary activities. The Shun 8-inch carving knife has an ideally shaped blade that allows chefs to cut as needed. The pakkawood handle is resin-impregnated wood that counteracts slipping. The edge maintains its sharpness for a long time.
Pros:
Carbon steel core
Handmade from 33 Damascus steel layers
Usable for many basic cutting needs
Outstanding Shun quality
Cons:
Complaints about the blade being too thin and chipping easily
Some feel the handle is a poor fit
---
The Calphalon Contemporary Carving Knife Set helps make a fine roast, prime rib, or holiday turkey presentation. The carving fork firmly holds roasts against a cutting board as you slice uniform, thin pieces of meat with ease. This set includes a seven-inch fork and eight-inch carving knife that are ideal for carving baked, grilled, or roasted meats.
Because the set is crafted from premium-quality German stainless steel, the set delivers lifelong durability and exact cuts. Fully forged high carbon steel helps to resist discoloration and rust, and maintain sharpness. High carbon steel knives sharpen easily.
The full tang design provides superior strength and excellent balance for dicing, chopping, and slicing. With a full tang, the blade stretched from tip to handle – the strongest form of knife construction. A lifetime warranty blesses the set; Caphalon replaces defective items due to workmanship or material when cared for as instructed and put to regular use.
The handles of the carving fork and slicing knife have labels on the ends that make finding what you want from a knife block quick and easy. Poly-resin handles provide grip on the ergonomic handles. They are contemporary, sleek designed handles that are smart complements to modern cookware.
The handles fit snugly in users' hands; they are almost universally enjoyed. It is possible to hold the fork and knife comfortably for a long while when working in your kitchen.
Pros:
Both fork and knife have good feel and weight
Substantial prongs allow for strong holding of the meat
Carves well
Easy to clean
Great value
Cons:
Does not fit in the block for Calphalon's 17-piece set
---
The Cangshan N1 Series Two-Piece Carving Set is a blend of great design, precision, and balance. It is a bold contrast between sharp and subtle. The minimal design of the sleek, hollow handle ensures the knife has balance in a chef's hand and is aesthetic. The award-winning set combines design and outstanding performance.
It contains a nine-inch carving knife and fork. A bolster design and full tang (where blade runs from tip to handle) provide exceptional control and durability. The set has a limited lifetime warranty. It received National Sanitation Foundation approval, which means it would work well at home or in a commercial kitchen.
The unique patented angled bolster accommodates a firm, natural pinch grip. Aesthetics have to be functional also – every angle and curve of the set ensures a comfortable and secure hold. Every seam is flush which adds to the great feel of the hold and grip.
The set works well for kitchen use and is easy to clean. Excellent materials include high-alloy German steel that offers a mix of durability and hardness. It's 58 +/-2 on the Rockwell hardness scale, which is around the middle for kitchen knives, but the edge should hold a while.
To help the blade stay sharp longer, it goes through an ultra-precise, six-stage heat treatment. This ensures the knife is hard enough for a 16-degree edge and durable enough to retain that edge in heavy kitchen use.
Pros:
Comfortable and very sharp
Form-fitting storage and display case
Sturdy and attractive
Well-balanced
Holds an edge
One solid piece
Cons:
Users found the place where the blade meets the handle is a bit harsh
---
Heckels' classic eight-inch carving knife makes slicing and serving meat easy. Carvers experience confidence with each cut – the honed, satin-finished, fine-edged blade has long-lasting sharpness and boasts precision cuts. Cut succulent slices of filet mignon, smoothly slice ham, and carve roast turkey effortlessly.
There is a seamless transition from the blade to the handle. The traditional ergonomic triple-rivet handle that surrounds a full tang encourages tireless cutting. It gives comfort and balance to the knife. Fully forged construction of the knife provides balance and durability.
The thin eight-inch blade handles nearly all carving jobs with ease, and fine-slicing is a breeze. The International Classic Carving knife is moderately priced. The steel used is a lesser quality than that of Henckels' premier lines, but the blade is stain-resistant and hot drop forged which should provide it with plenty of durability.
The handle is shallower and narrower than other knives on the list which should suit smaller hands. The knife is dishwasher safe, but like all fine knives, I recommend you wash it by hand, so it lasts longer.
Pros:
Sharp and well-balanced
Well-constructed
Made of German steel
Easy to sharpen
Easy to use
Accurate cuts
Cons:
Not as high-quality steel as in other J.A. Henckels knives
Low weight makes the knife seem cheap to some owners
---
Perfectly slice every ham, turkey, and roast with seamless maneuverability and effortless motion by using the Dalstrong Carving Knife and Fork Set. The set uses premium materials and has stunning design elements, cutting-edge technology, and Dalstrong's fine craftsmanship.
The knife is incredibly razor-sharp. The edge of the imported, high-carbon, German steel knife is a hand-polished, 18-degree edge on both sides. It maintains the perfect balance between maximum resilience and ultra-thin slices. The edge is stain resistant and precisely tempered.
Included in the set are a sheath, honing rod, and beautiful pakkawood carving fork with rivets. The award-winning design has a quality feel, premium materials, and riveted pakkawood handle with a grip that ensures maneuverability and comfort.
Engineered to perfection, the blade has a Rockwell hardness of 55 and a hand-polished satin sheen. It is carefully tapered for minimal slicing resistance, flexibility, and improved hardness. The honing rod keeps the blade in peak performance. This set has a "100 percent satisfaction or money back" warranty.
Pros:
Skillfully crafted
Rockwell hardness
67-layer Damascus blade
Flexible
Modest price
Lifetime warranty
Cons:
Not as sharp out of the box as expected to some users, but holds an edge well when sharpened
---
The anatomy of a Classic Wusthof Knife like the 9740-1 includes the blade, blade spine, bolster, rivets, tang, the heel of the handle, finger guard, etching, and the edge. The blade is a solid one-piece of steel that is tempered to a Rockwell hardness of 58.
There is a carefully ground and polished spine blade. An integral part of the knife is the bolster – it provides balance and heft for effortless cutting. Rivets permanently secure the handle to the tang which is a blade extension that bolsters through and into the handle (the strongest form of construction).
The heel assists the controlled and safe handling of the knife. It has a finger guard that provides comfort and safety as well as adding heft. The skillfully hand-honed edge is incredibly sharp and easy to maintain. The fork is a straight meat fork used for carving and serving.
Pros:
Good value for price
Effortless cutting
Well-balanced
Hollow ground edge discourages the meat from sticking to the blade
Durable
Holds an edge
Cons:
Users report the fork is not quite the same quality as the knife
---
The precision forged construction of the Mercer Culinary Genesis Carving Knife offers durability and strength. Its ergonomic Santoprene handle provides superior comfort and nonslip grip when your hands are wet. Santoprene is a high performing material that has a soft feel and is comfortable in your hand. (Kitchen oils cause no break down of the handle.)
The Mercer deftly handles cold and hot temperatures. The high carbon German stainless steel resists discoloration, corrosion, and rust.
For better handling on the cutting board, the bolster adds strength and durability to the knife and, along with the tang, provides excellent balance. The tapered ground edge increases efficiency when chopping and cutting, makes the knife long-lasting, allows easy honing, lasting sharpness, and adds superior stability. Oh, and the knife has a limited lifetime warranty.
The Mercer is seemingly able to cut everything. The versatile design provides control when slicing, mincing, dicing, and chopping meat, vegetables, and fruit. It's safe to say, it saves on prep time.
Pros:
High quality
Precision forged
Strong and durable
Ergonomic handle
NSF certified
Cons:
Some users found a few low and high spots on the edge
---
My Pick for Best Carving Knife
When choosing a carving knife, always consider:
Your needs
Ability of the knife
Comfort
Safety
Usage
Value
The Mercer Genesis Carving Knife provides:
sanitation, as proven with its NSF certification
safety, with its nonslip, ergonomic handle
quality, demonstrated by the materials and construction used to make the knife.
Forged from precision German steel, the knife has a bolster that provides superior balance – it's a comfortable knife to use.
There is a full tang that runs the length of the handle. The bolster at the end of the tang ensures a sturdy, firm grip. The knife stands up to everyday use, resisting rust, acidic kitchen oils, and extreme temperatures. A Santoprene handle makes it easy to use and hold. It is ideal for mincing, dicing, and chopping.
The knife is a blend of classic craftsmanship and modern technology and would be an amazing addition to your kitchen.