Who doesn't love brownies? I mean, we both know they aren't exactly good for us, but they're amazing to eat.
We can also agree: it's much more fun to bake your own sweet goods.
Baking brownies is no easy task. You might be wondering what the best brownie pan is for that job. If you want brownies with crispy edges and a gooey middle, stick around – we're going to find the brownie pan you'll want to add to your kitchen.
Top Brownie Pans Reviewed
What to Look for in the Best Brownie Pan
Heat Circulation
For any tasty treat, heat circulation is a significant player in its success. If your brownies burn on the bottom and don't cook on top, something is clearly wrong.
Look out for a brownie pan that does something special to circulate heat on all sides, or is made of a material that encourages even cooking. You'll thank yourself for this later.
Non-Stick Coating
If the coating is non-stick, then you're all set for an easy time with the cooking and cleaning. Just remember to care for your brownie pan properly, don't wash it harshly, and certainly don't scratch it.
A non-stick coating lets you get the most out of your brownies. Most everything will lift off when you're done – essential for sticky baked goods such as brownies. And that translates directly to cleaning – if it's non-stick, there's not much to clean off is there?
(Just make sure the material is free of potential toxins such as PFOA.)
Brownie Pan Size
Do you want to have to adjust your recipes, or buy more boxes of mix to treat the whole family? Take a look at how much your recipe makes, and buy a pan fit for the entire thing. A standard family size box recipe and family size pan will be around 9 by 13 inches.
Most brownie pans will be around 2 inches deep for a nice, thick, spongy, and gooey treat. But if your recipe isn't filling up the whole pan, you're not going to get that full tasty bite!
Similarly, if you have a recipe you know is large, maybe you want to look into a bigger pan (or two). Some pans come in pairs, which may be perfect for you – and your family or friends – if you often make large batches.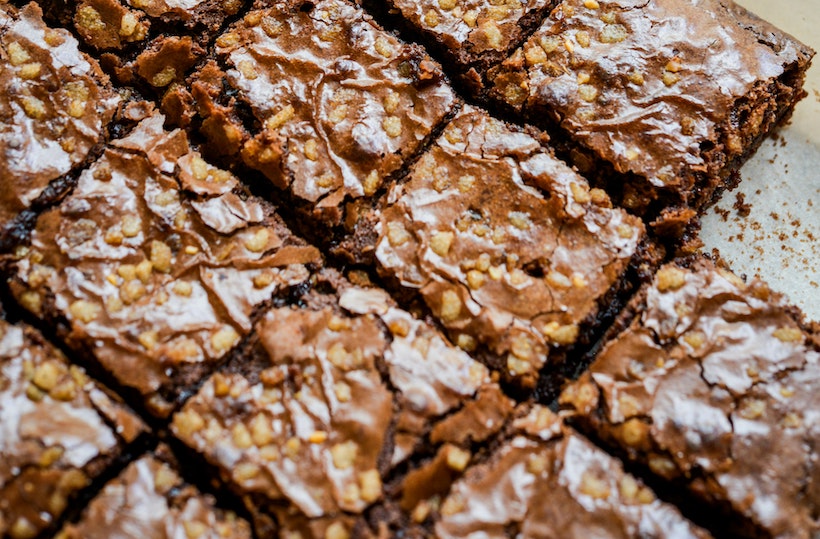 How Should I Clean My Brownie Pan?
Anything with a non-stick coating should be gently cleaned with soft sponges in warm water. Don't use that scratchy steel wool, but also don't be afraid to get rigorous with that soft sponge! (There could be crumbs dwelling in the grooves.)
Some brownie pans will boast they can be washed in the dishwasher, which isn't necessarily untrue. Just be careful not to assume the same can be said for all of them. You could destroy your coating, or make the pan rust. In general, I prefer to wash all my cookware by hand - it just ensures they'll last longer and not be exposed to harsh abrasives.
Review of the 6 Best Brownie Pans
The durable steel Wilton Brownie Bar Pan knows what it does, and it's right in its title. It's perfect for those brownies you can eat on the go, or top with ice cream and have for dessert.
The pan will serve you up to 12 thick pieces of brownie, each a perfect square with round, crispy edges – no more arguing about who gets insides and who gets outsides. Each cavity is 2.75 inches wide and 1.5 inches deep.
The squares are deep enough to let hot air circulate around them for even cooking. Then you can pop the treats out quickly thanks to the non-stick coating.
This non-stick coating further helps with cleaning. It makes it easy to wipe down with hot soapy water. You could also put this pan in the dishwasher, but doing it by hand is best.
Pros:
Nice, individual wells for the brownies.
Spread well for even heating.
Non-stick for easy cleaning and release.
Dishwasher safe.
You could also use it for making square cupcakes.
Cons:
The deep wells require an updated brownie recipe or more mix.
There is no mix of inside and outside brownies, all have a crust. Some users would like both.
---
Now, who doesn't love a cake pan that can make both dinner and dessert? This anodized aluminum Fat Daddie POB-8122 non-stick pan is perfect for cakes and brownies, and casseroles and lasagnas. It's also freezer safe, so feel free to save your "meal" for later!
One great thing about this pan is that it reflects heat, it doesn't absorb it. So this pan heats and cools faster – your brownies come out just as you've been dreaming, but you might need to adjust your recipes if you've been using a darker pan.
This is a pan that's built as tough as the ones they use in commercial kitchens and bakeries. You'll get professional results with this beauty, and 8 by 12 inches of 2-inch deep mouth-watering brownies.
Pros:
Versatile for any dish your heart desires (beyond the brownies).
Freezer safe for saving dishes.
Fast and even heating in the oven.
Quick cooling to prevent over-cooking.
Non-toxic non-stick coating.
Cons:
Customers found the pan may warp if used for long periods, for example, 60 minutes at 400 degrees Fahrenheit.
Not dishwasher safe — don't put it in unless you want to ruin the pan.
---
The Cuisinart 9-inch square cake pan is a durable, exceptional brownie pan made of aluminized steel. It's non-stick, and its construction promotes even heat distribution and anti-warping.
The thick, rolled edges make sure this pan won't warm even at high temperatures for prolonged times. And everywhere else, it's thick and heavy gauge.
You'll get consistent baking results with this pan, which is 2 inches deep for those thick brownies that impress every time.
If you follow the recipes well, brownies will pop right out of this pan. At that point, it's easy to clean as well as dishwasher safe. The only thing that'll ruin the coating is harsh scrubbing, or cutting the brownies with metal utensils while still in the pan. Make sure you pop the one, giant brownie chunk out first, and only then proceed to cut and eat it.
Pros:
Dishwasher safe.
Warp-resistant.
The rolled edges for anti-warping make this pan slightly more natural to pick up than smooth-sided pans.
Cons:
Users say measurements are slightly off — your baked goods will have sloped sides, as the bottom of the pan is around an inch smaller than the top.
---
If you liked the idea of Wilton's bar pan but not the brownie wells, how about this Wilton Non-stick 9x13" option? You still sort of have wells — but two of them in the form of two pans, and they're 9 by 13 inches long.
If you're baking for a kid's birthday party and feeding their friends, have a large family with a sweet tooth, or are just really lonely on a Friday night, utilize this double set!
The pans are built with a non-stick, easy-release, reinforced coating, and are just one product in a long line of fabulous Wilton cookware. And their edges are wide for easy gripping as you take your creations out of the oven – plus it's easy-release from there too.
Once you've got your 2-inch thick brownies popped out and cut up, you can toss (read: place gently) your pans in the dishwasher. Of course, they're better washed by hand before and after every use, but if you have no time to spare, you can put them on a cycle and relax.
Pros:
Two-pack, but also available individually.
Dishwasher safe.
Part of a long line of Wilton cookware, if you're brand loyal and looking for a set.
Cons:
Slightly sloped sides.
Users reported that the edges might tend to rust quickly — give your pans some extra TLC to try and prevent this.
---
Oh boy, did I get excited when I saw this pan has handles. The Rachael Ray Yum-o! Baking Pan has heat-safe silicone grips, which really – more baking pans need. Think of the oven mitts, people!
This pan is made of heavy gauge steel, so it's resistant to warping and very thick. Then it's all wrapped in a non-stick coating for easy release and cleanup.
This pan is durable when it comes to heat, too, being safe up to 500 degrees Fahrenheit. So throw it in full of your uncooked brownies, or utilize it for dinner. The 9-inch square dishes should feed the whole family.
Pros:
Silicone grips, perfect for holding when removing the pan from the oven.
Warp-resistant and visibly thick.
It can withstand high temperatures for long cooking times.
Versatile — it's more than just a brownie pan, and customers say it's better than Rachael Ray's other pans explicitly made for brownies.
A portion of the proceeds goes towards a non-profit organization helping parents and kids create healthy relationships with cooking and food.
Cons:
Customers report that cakes may burn on the bottom when they brown on top — perhaps the heat distribution isn't entirely even here.
Users have said the pan will rust in the dishwasher — you need to wash it by hand carefully.
---
Now, this is an exotic looking pan. It doesn't exactly have separate wells, but the Baker's Edge brownie pan does have separators that help you decide where to make your cuts.
Actually, these separators are there to improve baking performance — they circulate heat evenly through the middle of the pan, which is usually the hardest to reach place. If you're not a fan of the gooey middle brownies and love crispy edges, this may be the perfect model for you — every brownie will get chewy edges!
As well as having a genius method of heat circulation, there are handles to grab the pan.
Further greatness comes as the manufacturers boast of how their pan is fit for all standard box brownie recipes. On top of that, a nylon spatula and some brownie recipes are included with your purchase.
The pan itself, of course, is covered in non-toxic non-stick material and is made of cast aluminum. It's a standard 2 inches deep, and it measures 12 by 9 inches.
Pros:
Easy release and easy cleaning.
Innovative heat circulation encouraging design.
Every brownie gets crispy edges.
It comes with recipes and spatula.
Handles.
Cons:
Some people dislike brownies without a crispy edge, so the chewy edges are a downside if you're one of them.
Users mentioned washing and spreading brownie mix is challenging due to the design.
---
My Pick for the Best Brownie Pan
I won't beat around the brownie edges – in my opinion, the best brownie pan is the Wilton Brownie Bar Pan. However, I know this is a controversial pick as not everyone likes brownie edges.
For traditional brownies, I like Fat Daddio's POB-8122 Sheet Cake. It's lighter than a standard pan so that it might take a couple tries to nail your recipe, but the quicker heat-up and cool-down will eventually be an awesome feature in your kitchen.
You can't do much wrong with these top-quality brownie pans, but there are my two-cents on my two-best. Now, let's get baking!