In a hurry to slice? Our pick for best bread slicer is the is the Bambusi Bread Slicer Cutting Guide.
We've all experienced crushed bread as we try to slice our loaf, no matter how careful we are. But, without the right tool for the job, you won't be able to get that perfectly sized slice that doesn't look like an elephant sat on it.
But don't worry! I'm here to solve your problem by introducing the bread slicer specifically manufactured to give you even slices of bread. We'll review four different products to determine the best bread slicer.
Best Bread Slicer: Options Reviewed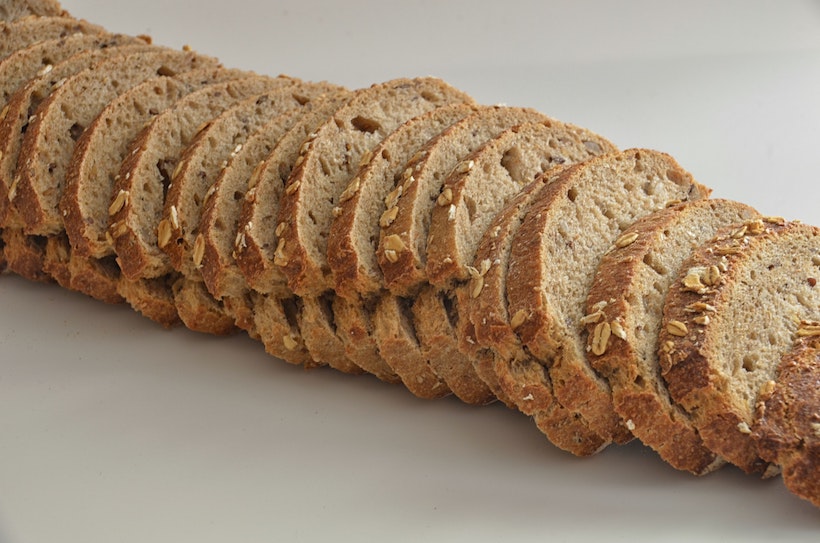 How To Find the Best Bread Slicer
Before we lay out the lineup, let's look at some features to look for in a bread slicer.
Types of Bread Slicers
There are two main types of bread slicers: mechanical and manual. The mechanical ones use electricity and cut your bread for you. As for the manual slicers, you have to cut your bread yourself, and they mainly work as a form of support.
Bread Knife
Outside of dedicated bread slicers, you can also opt for a bread knife. These are long knives with serrated, teeth-like edges that can cut through food with hard exteriors and soft interiors. These are more compact than bread slicers, easier to store, and easy to use and clean.
The best bread slicing knife should have a durable, full tang blade meaning that the blade and the handle are welded into one and are less likely to separate. The handle should also be ergonomic and not slip in your hand. Finally, it should be sharp and have an edge retention of between 9–16 degrees.
Slice Sizes
First of all, not all loaves are equal. For example, some are small and round, while others are big and square-shaped. Therefore, get a bread slicer with adjustable slice sizes so it fits different types of bread.
Material
In terms of slicers, wood or plastic are the most common materials. This is because wood looks beautiful on a countertop and is usually more durable. However, wood slicers also tend to be heavier and cost more than other types of material.
On the other hand, plastic is lightweight and easy to clean since it can (generally) be put in the dishwasher. However, some plastic chemicals can be dangerous when consumed, and – the jury is out – but there might be traces of them in your bread depending on conditions when you use plastic accessories. Also, the plastic surface might dull your knife when it scrapes against it.
In terms of the bread slicing blades, the best ones are made from stainless steel. This material is shiny, corrosion-resistant, and not likely to rust. So for long-lasting blades that can be sharpened well, go for this material.
One great feature that a bread slicer should have is storage space for the bread loaf. I mean, after you've cut the slices you want for breakfast, you don't want your bread to dry out! Therefore, you should store it in a dedicated container while you wait to cut the next slice.
Another popular feature is a crumb catcher that catches any excess bread crumbs that fall from the loaf when you slice it. This makes clean-up way more manageable.
Finally, the best bread slicer also includes a cutting knife, so you don't have to buy this separately.
Reviews of the 4 Top Bread Slicers
These are the best products on the market right now.
The Bambusi slicer consists of organic bamboo and has a lovely wooden design. It's reportedly sturdy, according to owners, and easy to assemble as well. At 2.9 pounds, the slicer is pretty lightweight, and the knife guides have three different slice sizes so you can get your perfect piece.
Included with this slicer is a serrated bread knife made from stainless steel with an 8-inch long blade, which works great with your standard-sized loaf. Also, it's attached to the slicer with a magnetic rest, making storage easy. You can fold the whole tool entirely for storage, so it's very compact.
Furthermore, users report that they like this slicer's elegant design and like the crumb catcher that doubles as a serving tray. Buyers also appreciate the drawstring bag that the tool comes with for easy storage.
However, some customers state that the knife is too short to reach through the whole knife guide properly, and therefore it can slip when you're cutting your bread, resulting in less-than-perfect slices. Also, the bottom of the knife guide isn't hardened bamboo, which means that your knife leaves marks on it as you use it.
Pros:
Sturdy and beautiful design from organic bamboo.
Rather lightweight.
3 slice size options.
Stainless steel bread knife is included.
Foldable and easy to store.
Comes with a crumb catcher.
Cons:
The knife blade is a little short.
Bamboo surface isn't hardened and gets knife marks easily.
---
If you're looking for a bread knife, this is a great choice. The Victorinox knife consists of stainless steel, which resists rust, and has a curved blade, making rocking it back and forth easier. Furthermore, this is a long knife at 10.25 inches, which means that it reaches through a big loaf with ease.
While this is a serrated knife that works great when slicing bread, note that the knife is only serrated on one side, so some users feel it results in a slightly crooked cut. This being said, many users report that this slices through a loaf like butter without crushing it, and they also like how easy it is to hold with its non-slip textured handle.
The blade is reportedly super versatile as well, so it can be used for many different kitchen tasks. Some people even use it as their go-to chef's knife. However, a number of owners feel like the design isn't the most attractive they've seen.
Pros:
Durable stainless steel knife.
A long, curved knife makes slicing easy.
Sharp.
Slices through bread without crushing it.
A versatile blade you can use for many different tasks.
Cons:
Only serrated on one side, which results in an angled cut for some.
Not the most aesthetically pleasing knife.
---
For those who want their wallet to be happy, we recommend this affordable bread slicer from Norpro. It's made of plastic, which is why it's a cheap alternative to some others on this list, and this also makes it super lightweight at just 0.25 pounds. The supportive bottom tray is wood, however, which makes the overall setup look attractive on your kitchen counters.
The plastic guide gives you even slices at 0.5-inches thick, but note that the slice size isn't adjustable. Also, several users report that the plastic guide is wobbly and doesn't have top support, so you have to press it down with your hands, which is inconvenient. There isn't any knife included with this slicer either.
This being said, owners praise this product for its crumb catcher that makes cleaning up your counter a breeze. Furthermore, it's easy to clean, and you can separate the guide from the tray below and wipe it off with a cloth. Assembly is also a breeze and won't take you long.
Pros:
Budget-friendly.
Very lightweight.
Nice overall design.
Has a crumb catcher.
It is easy to assemble and maintain.
Cons:
Slice size isn't adjustable.
The plastic guide is rather wobbly and fragile.
No bread knife is included.
---
This NutriChef electric slicer doubles as a bread slicer and an electric knife to slice meatloaf or cheese. Included is also an electric carving knife that allows you to cut chicken, turkey, or steak with ease. Furthermore, the two knives come with a handcrafted wooden block you can store them in.
The electric bread knife has an ergonomic handle that's easy to hold, according to buyers. It also has a safety lock that keeps the blade in place and prevents any injuries to the user. Also worth mentioning is that the knives consist of stainless steel, making them durable and non-corrosive.
On the negative side, owners don't like that you have to hold in the on/off button continuously while slicing your bread, as it places your hands and arms at a weird angle. Also, some users report that the knife sometimes overheats. Finally, a couple of buyers reported that the knives don't fit so well into the wooden block.
Pros:
Comes with an electric bread knife and an electric carving knife.
Wooden block for easy storage is included.
Ergonomic handle that's easy to grip.
A safety lock that prevents the blade from slipping.
Durable stainless steel knives.
Cons:
You have to keep pressing the on/off button for the knife to work.
May overheat.
The knives don't fit well in the wooden block.
---
And The Winner for Best Bread Slicer Is...
While all products on our list are excellent in their own ways, the best bread slicer, in our opinion, is the Bambusi Bread Slicer Cutting Guide. It allows you to adjust the slice sizes, has a crumb catcher, is made of elegant-looking wood, and comes with a bread knife in stainless steel.
However, we recommend the Victorinox Swiss Army Serrated Bread Knife for those looking for a bread knife rather than a bread slicer. This knife is made from durable stainless steel and has a long and serrated blade that cuts through bread like butter.