In a rush? My pick for top 4 slice toaster is the Cuisinart CPT-180P1 Metal Classic 4-Slice Toaster. If you're on a budget, I like the Sunbeam 003911-100-000 toaster.
Long queue for the toaster in the morning? A 4 slice toaster can save your bread-based breakfast. You'll reduce the wait... not to mention the fighting.
If you're in a hurry to get your breakfast on a plate, don't fret – in this post, I'll talk about the best 4 slice toasters on the market.
Top 4 Slice Toasters Reviewed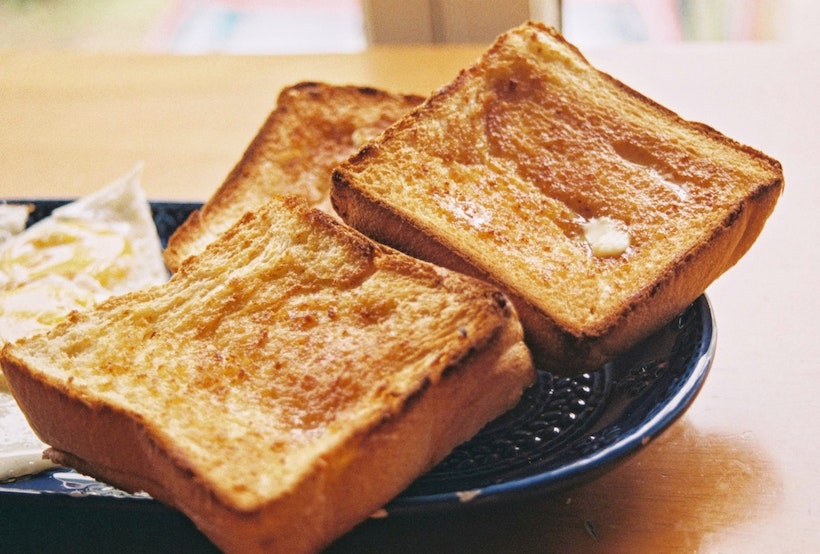 What to Look for in a 4-Slice Toaster
Buying a toaster might not seem like rocket science.
After all, it's just toast, right?
But the differences between toaster models can be subtle. It's essential to get the one that's right for your needs. Here are some of the things you should pay attention to when you're trying to find the best 4 slice toaster for your home.
Individual Controls
Does one of your kids want their toast darker? For this – and other related scenarios – you'll want to look for a toaster with more than one control.
Maybe you sometimes only use the toaster for one slice of bread, or you prepare toast and waffles at the same time. For those situations, it's great to have at least dual controls on your toaster.
You could, for example, set one side to defrost and the other to prepare a bagel! You'll be able to give everyone in your home the toast they want while saving time by cooking simultaneously.
Even Toasting
Nobody likes toast that comes out unevenly—dark on one side and white on the other.
Even worse, with a toaster for four slices, you might end up with four different shades when that isn't what you wanted (see the above section...). The best four slice toasters guarantee you an even color on all sides, no matter how many slices you're preparing.
Bagel Setting
Good news for bagel fans—there's an option for getting that perfect crunch combined with softness. Toasters with a bagel setting warm the outside while toasting the cut side of the bagel. They give you the perfect toast for your cream cheese, combined with a warm exterior.
(Even if you're not a bagel lover, this setting also comes in handy for quickly heating a hamburger bun.)
Slot Width
For bagels, buns, and English muffins, you'll need the slots to be wide enough for the bread to fit in nicely.
Look for toasters with between 1 and 1½ of an inch of space to allow for thick bread. And yes, continuing the hamburger bun theme – remember a wider slot lets you toast a fluffier bun.
Warm-Up Mode
Some toasters include this handy option for those who get distracted easily in the kitchen. It quickly reheats your previously toasted bread without burning it, so you can enjoy your toast even if you've let it sit for a while.
This will come in handy for busy parents who get interrupted in the mornings!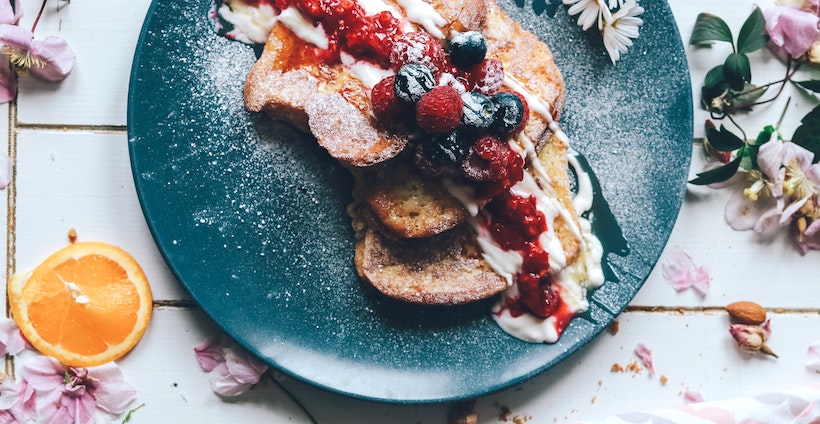 High Lift
You don't want to be fishing out slices and possibly burning your fingers once your toast is... toasted. This is why many toasters include a significant lift feature that raises the toast high enough you can easily get it out.
Crumble Tray
This simple addition to a toaster makes cleanup safer and easier. There's no need to turn the toaster around and shake it to get the crumbs to fall out. Just pull out the tray every couple of toastings and throw out the crumbs, so they don't start burning up.
Safety
Probably the most important security feature on a toaster is an auto shut-off function. It'll stop the mechanism and kill the heating elements when a toast is through, even if your bread is jammed.
This way, it won't burn the bread, which could cause a fire at worst, or bad smells at a minimum.
Defrost
This function will defrost your bread before toasting the outside. It's important to have and use the defrost function if you're toasting from frozen, so you don't end up scorching your bread or leaving the inside cold.
When you've got bread that's spent a bit too long frozen, it might even get freezer burn and lose some of its water molecules. The defrost option will allow you to toast it without drying the bread out too much.
(A personal note: this function is also great for frozen waffles – that oh so interesting advancement in the history of waffles.)
Is It Dangerous to Eat Burnt Toast?
You may have heard it's dangerous to eat burned toast, but the science is not conclusive. However, overcooking starchy foods like bread can create in the neurotoxin and potential carcinogen acrylamide.
Still, researchers haven't found enough evidence to show that burned starchy food would give you cancer – but it's something to watch out for while toasting.
The Top 4-Slice Toasters
And now, the meat (bread?) of the post: the best 4 slice toaster models out on the market today.
Whether you toast frozen waffles, hamburger buns, or slices of bread, there's an option for every taste and budget.
Cuisinart makes high-quality kitchen appliances, and the CPT-180P1 is no exception – it's my pick for top 4 slice toaster on the market today. It's not the cheapest, but is a top-notch toaster with all the necessary functions.
The brushed stainless steel exterior is sleek but sturdy, and the overall design has a beautiful retro look. Plus, all the plastic parts are BPA-free.
This toaster includes a simple 6-setting dial on both control panels so that you can prepare toast for two different eaters at the same time. It also has a bagel setting that heats the entire bagel and turns the cut surface delicious and crispy without scorching the exterior. The reheat function to fix your abandoned toast is also an excellent addition.
The slots are 1½ inches wide, so you can easily fit in a bagel or bun. However, they're not very deep, so some breads may stick out when toasting.
The lowest settings on this toaster is very low, and the high settings are hot enough to burn your toast. Some users note that it might take some time to find the right shade for every type of bread.
Pros:
Well-working bagel function.
Reheat setting warms up your bread in seconds.
Extra-lift lever.
BPA-free plastic parts.
Cons:
Not deep enough for all types of bread.
The low settings are very low-temperature according to owners.
---
My top alternative 4 slot toaster for those on a budget is this Sunbeam 003911-100-000 toaster. I like that it comes with individual controls on both sides. It also comes with a bagel function for both, and seven adjustable settings for the toast shade. Below the number dial, you also have a cancel button to stop the toasting.
The look is sleek and black, but the exterior is completely plastic. Thanks to the material, it stays cool to the touch, but it might not remain in perfect condition forever. It's also not the most eco-friendly option, but if you're concerned about plastic and health: the plastic doesn't come in contact with your bread.
As for safety features, the toaster includes an auto shut-off function that turns it off when the cycle is done. The crumb trays are in the back, so you may have to move the whole toaster to get to them. It's a bit uncomfortable to do so, but not so much that it would make this a bad purchase.
Overall, this is a good alternative if your budget is tight. A toaster is a simple appliance, so if you're looking for just the basic features, this will give you a good bang for your buck.
Pros:
Affordable.
The plastic exterior stays cool.
Toasts evenly.
Quick to heat up and toast.
Toast lift function included.
Cons:
Could be flimsy due to plastic.
---
This Hamilton Beach Modern 4-Slice toaster includes extra-wide slots for your bagels and muffins. It also has independent adjustments on both sides, from the defrost and bagel settings to the cancel button.
Both sides include individual crumb trays, but they could be better designed, as they tend to leave some crumbs on the counter when removed.
The brushed stainless steel exterior adapts to most kitchens and is easy to clean. However, parts of this toaster have a shiny mirror finish. These details will show every stain and crumb after a while, so it can take more work to keep it looking good.
Note that some buyers reported receiving the toaster with wrong labels for the buttons. This can be annoying, but it's usually not a deal-breaker and won't make it impossible for you to use the toaster.
Pros:
Independent settings on both sides.
Quick-toasting.
Sleek stainless steel look.
Sturdy build.
Bagel, defrost, and cancel buttons on both sides.
Cons:
Some owners note that the "cancel" and "defrost" buttons have incorrect labels.
Can toast unevenly, according to some owners.
---
This Proctor Silex 4-Slice toaster comes with extra-wide slots, which are ideal for bagels and English muffins. It also has a toast lift function to get even smaller slices out without burning your fingers.
The toaster has seven different settings for every shade of toast, but no defrost or bagel mode. It's a basic model, so if you don't need any special features, it can be a nice option.
As a safety feature, this model has an auto shut-off function that makes it release the bread when the cycle is over. This prevents burned toast, even if the bread gets jammed.
The exterior of the toaster is plastic and has a matte black finish. It stays cool to the touch, which is significant if your kids are walking around and love touching everything – like mine do.
If you're worried about the plastic, there's none in contact with your bread. The lever to push down to start toasting is plastic, and some owners note that you may have to give it more than one try before it catches. This might be annoying, but it's not uncommon in toasters and shouldn't put you off completely.
Pros:
The outside stays cool.
Sleek, black look.
Extra-wide slots.
Auto shut-off mode.
Cons:
Can be slow to toast, according to some users.
No bagel or defrost settings.
---
This Krups KH734D toaster comes with all the necessary functions you need. In particular, it has six different browning settings and a bagel function that toasts the inside of the bagel and keeps the outside warmed up.
The slots for bread are plenty wide at 1½ inches so that you can fit in most kinds of bread – ideal for bagels and hamburger buns.
If you forgot to eat your bread after toasting it, this model includes a convenient reheat button, which only takes 30 seconds. It also has a cancel button, which is another important feature for households with kids. With this, they won't need to touch the power cord or break the toaster by trying to force the lever up before the cycle is over.
Many 4 slice toaster models are sizable, but this one doesn't have too large of a footprint on the counter. At 13.5 x 13.3 x 8.6 inches, it can fit into most kitchens. The exterior is also a stylish combination of brushed and mirror-finish stainless steel.
Pros:
Reheat and bagel functions.
Cancel button.
Space saver.
Large slots.
Smooth lever.
Cons:
The mirror finish can be tough to keep looking clean.
Users found that the outside heats up noticeably.
---
This Black+Decker TR1410D model comes complete with a defrost mode, bagel function, and a cancel button. It also has wide slots and an extra lift to retrieve smaller pieces of bread without burning your fingers.
One thing to note is that users report this model isn't the fastest on the market. It takes time to toast, but on the positive side, the result is even, and your toast doesn't come out burnt.
An aspect that bothers some users is that the power cord comes out of the toaster's front-right side. The individual crumb trays, in turn, are at the back of the toaster. This makes it harder to get to them without moving it around.
The exterior is plastic, which adds to this model being lightweight, but some users note that it has a flimsy feel. It might not be the most durable material, but overall, this is a good toaster.
Pros:
Lightweight.
Toasts evenly without scorching.
Bagel function.
Wide slots.
Cons:
Customers remark that it's relatively slow to toast.
Might seem flimsy to some.
Some users found that the lever isn't easy to push down.
---
The Best Toaster for Your Family
After looking into all these models, I found the best 4 slice toaster to be the Cuisinart CPT-180P1 Metal Classic 4-Slice Toaster. It's sturdy, durable and looks great with a sleek stainless steel exterior. Plus, the plastic parts are completely BPA-free for those concerned about their health.
This model also has all the bells and whistles you'd need from a toaster. It includes a bagel function that leaves the outside soft and fluffy and the inside crunchy, and a defrost setting. You can also heat your bread slowly without scorching it on the outside.
If you're looking for a 4 slice toaster that's easier on your budget, I like the Sunbeam 003911-100-000 toaster. It's well designed, and I enjoy the independent controls. It's a very good choice for an alternative.
And if you're looking for something smaller, see my review of single-slot toasters or under counter toasters.